Performance Lab Mind vs Qualia Mind – what's better for brain function? Before taking a close look at both products, here's a short review summary.
SUMMARY: Performance Lab Mind is our winner. Although stimulant-free, it contains 4 highly researched ingredients to deliver complete cognitive optimization. Performance Lab Mind supports cellular brain energy, focus and memory, and burnout recovery. Qualia Mind contains 28 ingredients and costs over $119 per bottle, making it very expensive and not ideal for long-term use. That being said, Qualia is the better option if you're just looking for a short-term mental boost for your work or studies.
See our Full Reviews: Performance Lab Mind | Qualia Mind
OR
-Click to See the Current Top Rated Brain Supplements-
Performance Lab Mind vs Qualia Mind – The Basics
Qualia Mind and Performance Lab Mind are both among our best-rated nootropic supplements on the market. Here are the basic things you should know about both products.
Qualia
Qualia is available on Amazon and other popular 3rd party sellers and so is the more popular product of the two. It contains a huge amount of ingredients which are claimed to help:
Focus
Mood
Cognitive Function
Short-Term Memory
Qualia is developed by an American company "Neurohacker Collective." One slight downside to this product is that it may need to by cycled on and off, due to having so many ingredients. Taking it long-term could potentially lead to tolerance build-up and in rare cases, side effects (we'll touch upon this later on).
This could also be Qualia's advantage because it's possibly the most effective nootropic supplement you can take short-term. Thanks to caffeine inside, it's perfect for those short bursts of mental energy and focus.
Click to See our Full Qualia Mind Review
Performance Lab Mind
Performance Lab Mind is a 100% plant-based, stim free nootropic developed by Opti Nutra, a team that consists of neuroscientists and health experts – enabling them to create one of the most advanced brain supplements currently on the market.
Performance Lab Mind uses NutriGenesis® technology which involves growing their own nature-identical nutrients from yeast and bacteria, which makes it incredibly innovative in how it mimics natural compounds you'd get from foods and herbs.
Performance Lab Mind is said to help:
Brain Energy
Focus
Mood
Neurogenesis and Neuronal Repair
Productivity
Performance Lab Mind is only available to buy directly from the manufacturer. They do this to ensure you get the latest batch of the product every time you buy it.
What's more, this business model allows Opti Nutra to cut down the costs for their customers as there's no middle man like Amazon involved. It also prevents fake reviews and dissociates them from other low-quality products that are often seen in Amazon's recommended section.
Click to See our Full Performance Lab Mind Review
The Ingredients
The ingredients are what ultimately tells you which of these two supplements is a better choice for your particular goals.
And these two couldn't be more different from each other.
Qualia Mind contains a whopping 28 ingredients. Performance Lab Mind only has 4. So, is "more better" in this case?
The answer depends on what you're looking for. If you need those short bursts of energy and focus for your work or studies, and you aren't interested in long-term brain optimization, then Qualia Mind is the better option due to having caffeine inside.
Here's a look at Qualia's ingredients: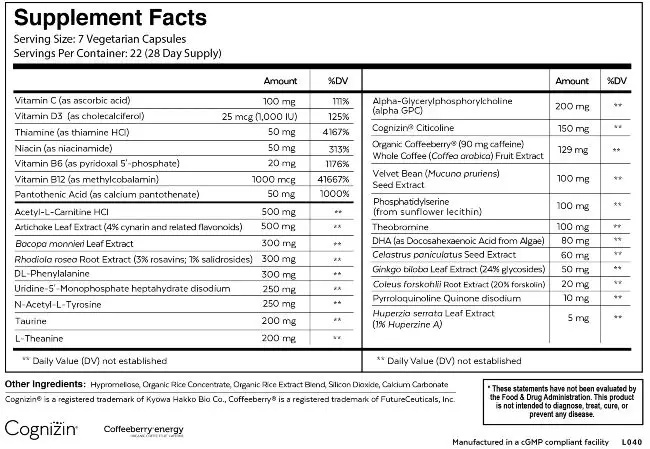 Performance Lab Mind is a better long-term brain support option. It uses Cognizin, a patented form of citicoline which is a nutrient shown to boost brain energy on a cellular level. It also contains antioxidants that protect brain cells and improves oxygen delivery to your neurons.
Performance Lab Mind also contains Phosphatidylserine (PS), a phospholipid that our brain cells use to maintain healthy membranes (outer part of the cell), which can be especially helpful for older folks.
PS has been shown in studies to boost memory and reduce stress significantly. It's also used by athletes to reduce the effects of stress on their minds and bodies.
Here's a look at Performance Lab Mind's Ingredients:
The biggest advantage of Performance Lab Mind is that it's much safer for long-term supplementation. With only 4 ingredients, none of which are aggressive stimulants, it doesn't need to be cycled. The longer you take it the more profound the effects on brain structure, neurotransmitters, mental energy and overall cognitive function. There's also no caffeine crash since it's stimulant free, and provides a more stable and cleaner energy that lasts.
Our Thoughts on the Ingredients in Performance Lab Mind vs Qualia Mind
Performance Lab Mind's ingredients are superior when it comes to reducing stress and supporting long-term brain function. This includes mental energy, motivation, focus, memory & recall, as well as brain cell protection.
Qualia Mind, on the other hand, is a better option for short-term benefits. So if you just need a quick mental boost for your work or studies, this can work well for you. It can lead to withdrawals if you don't cycle it, though.
Side Effects
Performance Lab Mind's 4 ingredients – Phosphatidylserine, French Maritime Pine Bark Extract, Citicoline, Tyrosine – are among the safest nootropic compounds on the market. Studies have used these for months without any reports of side effects. Plus, Performance Lab Mind is clinically dosed which means as long as you stick to the recommendations on the label it will work perfectly.
Qualia Mind has 28 ingredients which naturally increases the risk of adverse interactions and side effects. This is why you should stop taking Qualia Mind every now and then to take a break and let your brain recharge. An ingredient called Huperzine A in Qualia Mind is known to cause headaches and some other side effects when taken long-term without a break.
As always, speak with your doctor if you have any questions about supplements. We don't give medical advice!
-Click to See the Current Top Rated Brain Supplements-
Customer Reviews
Both Performance Lab Mind and Qualia Mind enjoy excellent reviews online.
However, we prefer not to look at these for one simple reason: they can be manipulated to the point where you don't know if they're legit or not.
It's best to check the ingredients for yourself and see what the studies have to say about them. This is the best way to check if the product works and if it is safe.
Price and Value For Money?
Performance Lab Mind comes with excellent deals when buying in bulk. It costs $49 per bottle, which comes out at $1.63 per serving. You also get fast, free worldwide shipping when you buy 2 or more bottles. It has 30 capsules per bottle – you're meant to take one capsule per day.
Qualia Mind costs $119 per bottle and contains 154 capsules. You're meant to take 7 capsules per day which means it will last you 28 days. Although very expensive, you can save money on the first order by subscribing to buy Qualia Mind every month.
RELATED: The Three Best Brain Health Supplements on the Market
Conclusion
So that concludes our Performance Lab Mind vs Qualia Mind comparison.
These two products are night and day difference. While Performance Lab Mind provides long-term brain support and mental burnout recovery, Qualia Mind is a better short-term option because it has stimulants and a large number of other ingredients that provide a quick burst of energy.
Qualia is also the more expensive of the two. Taking 7 capsules per day isn't everyone's cup of tea, which we totally understand.
Performance Lab Mind has a serving of 1-2 capsules per day, and it's healthy for daily use. You can learn more about Performance Lab Mind by clicking here.
You can also read our Qualia Mind review by clicking here.
If you're looking for the best brain supplements currently on the market, click on the image below to see where Qualia and Performance Lab Mind stand in our top 3 (we've picked them out of over 25 that we tested this year).
---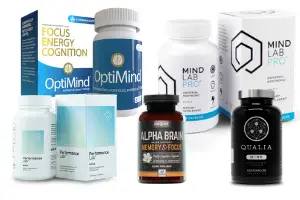 The 3 Best Brain Health Supplements
We've picked the top three leading nootropic stacks on offer right now to support your goals.
---