Hi, and welcome to our Prevagen vs Alpha Brain comparison! Today, we'll be taking a look at arguably the 2 of the most popular brain supplements currently around. Prevagen is a little newer to the market, whereas Alpha Brain is the OG brain supplement that's been around for years. However, in recent years, Prevagen has gained tons of popularity online, in no small part thanks to the strong marketing efforts of its manufacturers, Quincy Bioscience.
But let's disregard all of this for now, and get down to the most important facts. Which are: benefits, side effects, and pricing of both products. Using our exhaustive criteria, we'll be deciding which one scores higher, and which one will give you more energy, mental focus, and clarity in a natural way.
*Note: both Prevagen and Alpha Brain are OTC food supplements. They're not prescription pills. A true 'nootropic' (brain supplement) is by all definitions safe and healthy for daily use.
-Click to See the Current Top Rated Brain Supplements-
Prevagen vs Alpha Brain – The Basics
Prevagen and Alpha Brain are both natural nootropic supplements that are commonly used by older folks as well as younger adults to boost their focus, memory, productivity and other aspects of brain function.
Below, we'll compare the most important facts you need to know about these supplements.
Both products are available on Amazon
Get Prices: Prevagen | Alpha Brain
Prevagen Overview
Prevagen is a memory supplement from Quincy Bioscience. It comes in two versions – regular strength (10mg per capsule) and extra strength (20mg per capsule).
*Prevagen's official dosage instructions: 1 capsule daily with food.
Quincy Bioscience, the makers of Prevagen, is a Wisconsin-based company known for its controversial marketing tactics. They were sued in the past by the Federal Trade Commission for making 'misleading' jellyfish commercials about the benefits of Prevagen.
To make the matters worse, the Federal Court in New York ordered another trial in the Prevagen lawsuit in 2022. Safe to say, that's quite fishy!
If you take a look at Prevagen's website, you may still be able to see some of these controversial ad involving jellyfish.
Apparently, this jellyfish is where Prevagen's main ingredient is sourced from, and is reported to give you the following benefits:
Improved clarity
Enhanced memory
Healthy brain function
After giving you the lowdown of Alpha Brain, we'll check if Prevagen's ingredients support its manufacturer's claims, and whether there's any real basis for suspicion.
Alpha Brain Overview
Alpha Brain is an old-school brain booster with natural ingredients that affect your mood, focus and cognitive sharpness. Alpha Brain first came to limelight when celebrities like Joe Rogan started promoting it.
Alpha Brain comes in cool-looking black bottles with orange graphics, containing 60 capsules per bottle. According to the manufacturer, you should take 2 capsules daily for optimal results on your concentration and productivity.
Alpha Brain is made by Onnit. Compared to Quincy Bioscience, Onnit has a cleaner reputation and enjoys higher trust amongst its customers overall. The owner of Onnit is also very well known in the 'biohacking' community for offering helpful tips on how to optimize your performance and daily lifestyle.
However, Alpha Brain isn't without its pitfalls. One of the main problems with this supplement is the lack of transparency on the label. The proprietary blends mask the individual ingredient doses, you can only see their total dose on the label. This makes assessing Alpha Brain's safety and effectiveness tricky, to say the least. 
The Ingredients
Both Prevagen and Alpha Brain fail when it comes to their ingredient choice.
Prevagen's Ingredients
Vitamin D (50mcg)
Apoaequorin (10mg) (or 20mg in the 'Extra Strength' version)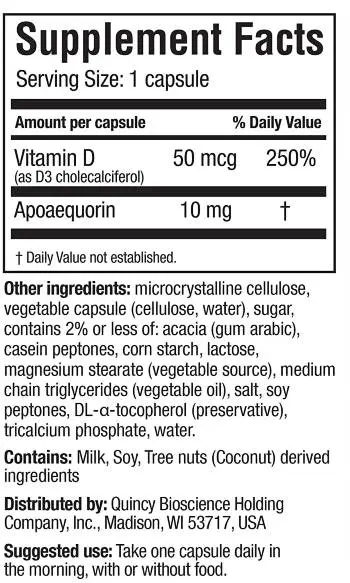 In Prevagen's case, you'll only see 2 ingredients on the label – vitamin D and Apoaequorin. Vitamin D is a basic health ingredient that supports your bone strength and many other functions in the brain and body. However, unless you're severely deficient, you're unlikely to be feeling any benefits from vitamin D alone.
Apoaequorin, on the other hand, is the famed jellyfish protein from Prevagen's commercials. According to the manufacturers, it will help clear calcium plaque from your brain, as well as improve neuron signaling. This, in theory, should help your brain to stay more youthful. The studies Quincy Bioscience links have been conducted by a scientist that was banned from PubMed! And Apoaequorin isn't approved by the FDA.
If you take a look at some of the more reputable studies, you'll find that there's little to no evidence that Apoaequorin can do anything for your brain!
That leaves Prevagen with only one ingredient that works. Not enough for you to notice a difference!
Alpha Brain Ingredients
As we've said, Alpha Brain has proprietary blends. 3 to be precise. Each of these blends contain multiple ingredients that are thrown together as a single dose on the label – leaving us in the dark guessing their doses.
Here are the ingredients in Alpha Brain:
Vitamin B6 (10mg)
Onnit Flow Blend (650mg) – L-Tyrosine, L-Theanine, Oat Straw Extract, Phosphatidylserine, Cat's Claw Bark.
Onnit Focus Blend (240mg) – Alpha GPC, Bacopa Monnieri, Toothed Clubmoss (Huperzine A)
Onnit Fuel Blend (60mg) – L-Leucine, Pterostilbene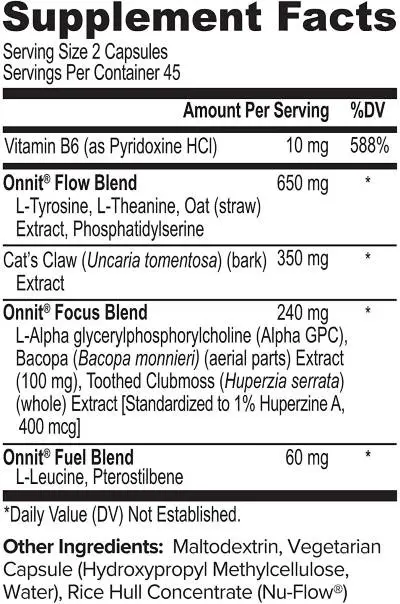 In terms of the ingredients themselves, Onnit has made some good choices. Vitamin B6 is essential for healthy blood flow and the conversion of foods into energy. L-Tyrosine, on the other hand, helps your brain to make more dopamine which helps you perform better under stress. Dopamine also makes things more pleasurable in everyday life and is critical for many of your neuromotor functions.
L-Theanine is a calming amino acid from green tea that helps offset some of the jitters of caffeine; which is why the two are a great combo.
The rest of the formula doesn't look too amazing. Alpha GPC is the only worthy mention left. Alpha GPC is a source of choline which your brain uses to make essential chemicals that regulate memory and other cognitive functions.
L-Leucine is a muscle building compound commonly found in bodybuilder's supplements, not nootropics. Huperzine A, while beneficial for memory, also comes with potential side effects when dosed too high. We don't know its dose, nor the dose of any ingredient other than vitamin B6 in Alpha Brain.
So even though some of Alpha Brain's ingredients might be among the best on the market, we simply can't tell if they're effective or safe.
Side Effects: Which is Safer?
We'd say that Prevagen is a safer option, since it only has 2 ingredients, one of which is vitamin D and the other doesn't seem to do anything at all. Alpha Brain unfortunately doesn't disclose its ingredient's doses. Potential side effects of overdoing it with Huperzine A might include:
Headaches
Memory loss (ironically)
Insomnia
Customer Reviews
Prevagen has over 8000 reviews on Amazon in total when you count both the Regular Strength and Extra Strength version. The average score is 4/5 in total, which is not bad for a supplement that doesn't work! Then again, there's always the possibility of moderating reviews and writing fake testomonials, which would explain such an unusualy high score.
The other explanation would be great marketing by Quincy Bioscience – you should never underestimate the power of the placebo effect.
As far as Alpha Brain goes, it has 6,400 ratings on Amazon and an average score of 4.5/5, which is excellent, but yet again, there's no way to know how many of those are legitimate. Some users complained about headaches from Huperzia Serrata, but most of them said they felt 'better' mentally from using Alpha Brain.
Prevagen vs Alpha Brain: Price Comparison
Depending on the version you buy, Prevagen will cost you between $40-$50 for a month's supply. This is around the same price as the current market's leading nootropic supplements, while offering far less value for money with its 2 ingredients (one of which is unproven).
90 count pack of Alpha Brain will cost you $69.95 on Amazon. The price is usually even higher on the official website, but they do offer discounts if you subscribe to their monthly plan. If buying the 90-count pack it will last you 45 days, which is more than Prevagen. On a price-per-pill basis, their price is essentially the same.
RELATED: The Three Best Brain Health Supplements on the Market
Conclusion to Prevagen vs Alpha Brain
So that concludes our comparison. Prevagen vs Alpha Brain: which one wins? our pick is Alpha Brain for the simple fact that it uses better ingredients, and more ingredients.
Prevagen only has 2, one of which isn't proven to work, and the other (vitamin D) is much cheaper to get from other supplements.
So while Alpha Brain is our winner here, it's lacking more transparency and some of the few key nootropic ingredients (such as Lion's Mane Mushroom) that would make it more effective. For the price, you can definitely find better options out there.
If you're looking for a complete guide to finding the safest and most effective brain supplements on the market, click on the image below to see our current top 3 recommendations.