Plato is a clean, simplistic-looking nootropic formula that claims to improve your memory, reduce stress, and help you focus. In this Plato nootropic review, I'll look through its ingredients to see if it works and whether it comes with any side effects.
Costing $46 per bottle, Plato comes in simple and transparent bottles. The formula is also fairly basic with only 4 ingredients in it. It apparently helps you with:
Mood
Cognitive function
Concentration
But are 4 ingredients enough here? What can you really expect from Plato? Let's check the ingredients, side effects, benefits, and more to find out.
Pros and Cons
If you don't want to read through the whole review, I've found Plato to be a decent nootropic. It's got some great ingredients in Rhodiola and L-Theanine.
Not the best formula around, but it can definitely help you with your mood a bit. It would be a much more complete and effective formula if it included a few additional core nootropics. It's also slightly let down by its premium price, considering what it offers. It's 4/5 from me.
Pros
Great ingredient choices
Natural and safe
Very informative and clean website
Cons
Missing some key nootropics, including Lion's Mane Mushroom and L-Tyrosine
Not the best value for money – $46 for only four ingredients
Not much is known about the brand – they're brand new (no pun intended)
Click to See Current Top Rated Nootropic Stacks
How Does Plato Work in Your Body?
Nootropics like Plato work by boosting specific brain pathways with the goal of improving your focus, mood, memory, and other aspects of brain health. Plato's ingredients specifically seem to focus on the mood aspect. The formula is packed with adaptogens which help your brain work better under stress.
For example, Rhodiola Rosea (one of the ingredients in Plato) is known to regulate dopamine and serotonin production. Dopamine and serotonin are two brain chemicals that are responsible for feelings of euphoria, happiness, and motivation, among many other roles they have in the body.
However, it's not all great. We're found a few things that we didn't like about Plato's formula. Below you can see what those things are.
Benefits
This is what the marketing material on the official Plato website claims;
Better focus
Less fatigue
Sharper memory
Company Reputation
Plato is developed by a company called Vernon Health. It's a relatively new company. They're based in New York.
Their website design is clean, they also have lots of information about Plato and how it works. However, it's clear there's a long way to go before they can compete with the likes of Performance Lab supplements or Mind Lab Pro. At least in terms of branding.
In that sense, it's best to focus on its ingredient formula instead – that will tell us if this product really works or not.
---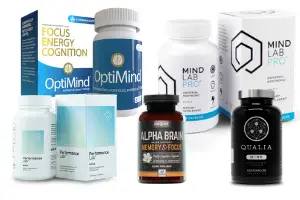 The 3 Best Brain Health Supplements
We've picked the top three nootropic stacks that are available to you right now for cognitive support.
---
The Ingredients
Plato's formula only has 4 ingredients. But the good news is, the ingredients themselves are fairly solid. With plenty of scientific evidence backing their benefits.
The best of all, Plato doesn't use any proprietary blends. This means you can see everything on the label – including the dosage of each ingredient. Props to them for that!
Let's have a closer look at the formula: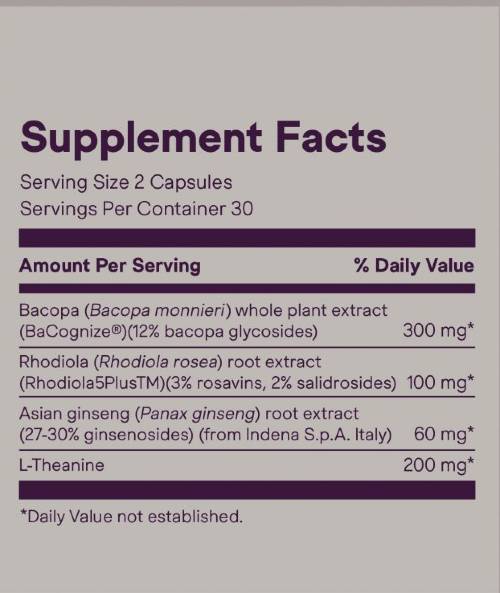 Bacopa Monnieri
Best known for improving memory, but it also supports a healthy mood.
Plato's off to a good start with this ingredient. Also called Brahmi (after the Hindu god Brahma), or Water Hyssop, the ancient herb Bacopa Monnieri is one of my favorite nootropic ingredients.
Besides helping to boost your memory, Bacopa also works as an adaptogen. Meaning, it helps your body better deal with stress. Plato uses Bacognize, which is a branded type of Bacopa. I prefer another brand of Bacopa, called Synapsa.
Why? Because I haven't had the best experience using the Bacognize version of Bacopa – it made me lethargic, unmotivated and caused anhedonia. Now, these are some pretty serious claims, but I'm not the only one who's experienced this; many Reddit users have felt the same using Bacopa.
That said, everyone is different, so Bacognize might very well work just fine for you.
Rhodiola Rosea
An energizing adaptogen that helps you perform better under stress.
Rhodiola is another great adaptogen, and yet again, it comes as a standardized, branded version. In my in-depth Rhodiola review, I've suggested taking a Rhodiola extract that contains a 3:1 ratio of rosavins to salidrosides. These are its key active compounds responsible for its benefits. And this ratio is how they occur in nature in Rhodiola's roots.
However, Plato uses Rhodiola5Plus™ extract, which is 3:2 in rosavins to salidroside ratio. As a result, I can't tell what kind of effects you can expect from it, nor how effective it will be.
Panax 'True' Ginseng
Effective for mood and immunity to illness.
This is a great all-rounder. In addition to enhancing your cognition and mood, Panax Ginseng can help with everything from the immune system to testosterone production. It really is a great ingredient, and is standardized to 27-30% saponins, which is much more concentrated than generic Panax Ginseng supplements. In other words, you don't need as big of a dose to get the benefits.
L-Theanine
Calming amino acid that helps with anxiety and mood.
I recently reviewed L-Theanine and covered what it can do for your brain. To put it shortly here, L-Theanine is a non-essential amino acid that you'll only find in green tea and some mushrooms.
Basically, how it works is by raising your Alpha brainwaves, along with boosting the GABA brain chemical. Both of these induce feelings of calmness and relaxation. Without the loss of focus. The feeling is similar to that after a deep meditation session. It's a good ingredient, and Plato includes 200mg per serving, which is plenty!
Anything Missing?
This is one of the most important sections you'll read in this Plato nootropic review.
Although Plato has some excellent ingredients, it does miss some core nootropics. These include:
The nootropics listed above are some of my favorites for total brain optimization. Together, they target multiple brain pathways, including brain energy, neurogenesis, brain blood flow, neuron protection, and brain chemicals. This is why some of the current top-rated professional nootropic formulas like Mind Lab Pro take full advantage of them.
---
Editor's Pick:
Best Rated Nootropic Stacks of This Year
---
How to Take (Dosage Instructions)
Plato dosage is 2 capsules per day. Rhodiola is a bit stimulatory which can prevent you from falling asleep. That's why I'd personally suggest taking Plato in the morning or early afternoon. That's when most people need a cognitive boost anyways.
Side Effects
Plato is a safe nootropic. I haven't seen any side effects in regards to this supplement. 3 of its 4 ingredients are herbs which have been used for thousands of years. The dosages are also within safe limits. So all in all, there should be nothing to worry about.
Price & Value For Money
One bottle of Plato will cost you $46. They offer a subscription deal where you can get it for $39. In my experience, it's not terrible value for money, but it could be better. For $46 dollars, you'd expect a more potent and effective nootropic. Close to this price range are the best current nootropics on the market, which use a wider range of proven ingredients.
Where to Buy Plato?
As of right now, you can only buy Plato nootropic on its official website.
Plato Nootropic Review Conclusion
So that brings my Plato nootropic review to an end.
Plato is a simple and safe daily nootropic for anyone who's looking to give their cognition and mood a slight boost.
It's definitely not a bad supplement. However, the biggest problem for me is the price. $46 for a product with only 4 ingredients seems like a bit too much for me. Then again, the ingredients are all of really high quality, so looking from that angle it isn't really that bad!
>See Our Current #1 Rated Product<
---
*Individual results may vary. Please speak with your doctor or physician before undertaking any new weight reduction, supplement, or exercise regime.
**Disclaimer:  The information on this site has not been evaluated by the FDA. The products on this page are not intended to diagnose, treat, cure, or prevent any disease. Results in description and Testimonials may not be typical results, and individual results may vary. We may earn a commission if you click the links and buy the products featured on this page.