Here we're taking a look at Memotenz, a popular brain function supplement that's available to buy on the official website and other 3rd-party sellers like Amazon.
Produced by a US-based company called Health Research Institute, Memotenz belongs to a class of supplements called 'nootropics.' These products often include herbs and other ingredients that are supposed to support your goals. Memotenz, in particular, is claimed to help with:
Memory
Focus
Mental Clarity
Cognitive health
With one bottle costing $79.98, Memotenz is even more expensive than the current top-rated brain health supplements on the market. But how does it compare to them in terms of quality & value? We look at its ingredients, benefits, and side effects in this Memotenz review and give you our take on it.
Memotenz Review At a Glance
If you're looking for a quick overview of Memotenz, it's a pretty big letdown in our opinion. It masks its ingredients behind a proprietary blend so we can't see how safe or effective they are. It's also missing a number of important ingredients, including Lion's Mane Mushroom, Citicoline, and Rhodiola Rosea.
While there are a few positive things about Memotenz (e.g. it has Ginkgo Biloba which is a good ingredient), it's not enough to make it on our top 3 list.
Pros
Acetyl L-Carnitine provides brain protection
Phosphatidylserine is a good ingredient
Cons
Uses a proprietary blend – can't see the ingredient doses in it
Expensive (almost $80 for 30 capsules)
Missing several core ingredients
St. John's Wort is known to cause adverse side effects
---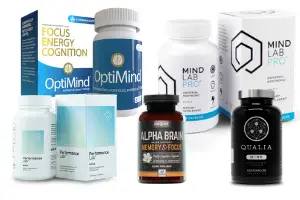 The 3 Best Brain Health Supplements
We've picked the top three nootropic stacks that are available to you right now for cognitive support.
---
Claimed Benefits
Promotes Mind Clarity
Supports Mental Focus
Increases Brain Performance
Boosts Short-Term Memory
The Ingredients
Memotenz contains 7 active ingredients in total. Some of our favorites include Phosphatidylserine, Bacopa Monnieri, and Acetyl L-Carnitine. What's disappointing though, is that these ingredients are all in a proprietary blend.
What does this mean? It means that you can't tell their doses, you can only see the total dose of the blend, which is 727mg. Because of this, we aren't able to asses how safe or effective this product ultimately is.
[alert type="info" icon-size="normal"]
Typically, a manufacturer will include a proprietary blend for one main reason: lack of confidence in their formula. In order to save money, the company will reduce the dose of expensive ingredients to trace amounts – making them ineffective.
But these ingredients will still be listed on the ingredient label, as a part of a 'proprietary blend.' This tricks the customer into thinking they've got what they wanted, when in reality it's underdosed and doesn't work.
[/alert]
A company that uses optimal doses of proven ingredients would be proud to show them on the label. There's no legitimate reason to use a proprietary blend nowadays, unless you're trying to hide something from your customers!
Ginkgo Biloba (50mg)
Ginkgo Biloba is the only ingredient in Memotenz that isn't a part of a proprietary blend. But that doesn't matter as it's underdosed. According to Examine.com, Ginkgo can help boost circulation in the brain at doses of 120-240mg. Memotenz only has 50mg per serving. (1)
Proprietary Blend (727mg)
St. John's Wort – Although natural, this antidepressant ingredient is known to cause a wide range of side effects, and has numerous adverse interactions with medications. (2)
Glutamine – This is a bodybuilding supplement that helps with muscle recovery. Although it plays a role in inflammation and brain health, you'd need to take it in grams every day. The entire Memotenz proprietary blend has only 727mg.
Phosphatidylserine Complex –  This is a great choice. Phosphatidylserine helps boost communication between your brain cells, which has a knock-on effect on your memory. But again, it's masked in a proprietary blend so we can't tell if it works or not.
Bacopa Monnieri – Another great ingredient! Bacopa doesn't work immediately, but if you give it a few weeks, you'll notice it helps you remember things better.
Dimethylaminoethanol Bitartrate – DMAE is naturally produced in your body and found in some foods. Although there's a lack of evidence on DMAE, some people report that it helps them with mood and memory.
Acetyl L-Carnitine – ALCAR is one of our top rated nootropic ingredients for mental clarity and getting rid of brain fog. You do need to take between 500-2500mg of ALCAR per day for it to work, though. For all we know, the dosage in Memotenz could be as low as 1mg. (3)
Anything Missing?
A lot is missing from Memotenz! If it included some of the following ingredients – and in the right doses – it would certainly be a much more competitive supplement.
Rhodiola Rosea – makes you more resilient to stress and fatigue.
Citicoline – shown to boost brain energy by 13.6% in studies.
B Vitamins – essential micronutrients for optimized brain health.
L-Tyrosine – helps you perform better under pressure, and replenishes your dopamine neurotransmitter.
Lion's Mane Mushroom – shown to boost proteins that the brain uses to make new neurons and nerve connections; essentially, keeping your brain younger.
-See This Year's Top Rated Brain Health Supplements-
How to Take (Dosage Instructions)
Memotenz dosage is 1-2 capsules per day, ideally with a meal. For maximum effects, the manufacturer recommends taking up to 4 capsules per day, spread into two doses with meals. Note that if you do take this much, you'll run out of capsules pretty quickly, as one bottle of Memotenz contains only 30 caps.
Side Effects
Here we come to one of the more controversial parts of this Memotenz review.
Memotenz contains St. John's Wort, which, according to WebMD, comes with a whole host of side effects. (2) Not only that, but the ingredient doses in Memotenz are hidden in a proprietary blend, which means we can't tell if they're safe.
Customer Reviews
At this moment in time, Memotenz customer reviews look decent, averaging 3.5 stars on Amazon. While most users didn't complain about serious side effects, some of them were disappointed with the lack of results from this product.
It's not all bad, however – one customer said they found it helpful for "focus and clarity".
Price & Value For Money
Depending on where you buy it, Memotenz costs around $66 per bottle. This is right up there with the best brain health supplements on the market, at least in terms of price. In terms of the value, Memotenz is nowhere near these products – it only has 30 capsules, and it's ineffective!
Memotenz Review Conclusion
So that brings us to the end of this Memotenz review. Based on our research, this product doesn't work as it's marketed on the official website.
First off, it costs a lot of money for a bottle of 30 capsules. If you take the recommended 2-4 per day, you'll run out of it pretty quickly.
Furthermore, the ingredient formula is disappointing for the most part. Apart from Ginkgo Biloba, Acetyl L-Carnitine, and Phosphatidylserine, there's nothing in this product that would justify its ridiculous price.
But that's not even the worst part. The makers of Memotenz claim all these amazing benefits that you'll experience, yet don't have the courage to show the ingredient doses – hiding everything behind a proprietary blend. To us, this shows a lack of confidence in a product, and worse, a lack of honesty to customers.
Although the company is called Health Research Institute, we don't feel that much research has gone into this supplement at all. The final nail to the coffin is St. John's Wort, an ingredient known to cause serious side effects – and it's included in unknown dosage here.
Memotenz is unlikely to improve your memory. It's unlikely to do anything at all. It's better to save money for a more effective product, a professional formula that uses proven ingredients, in the right doses.
---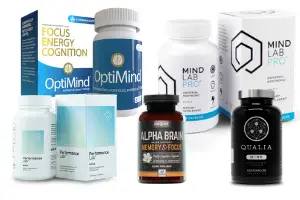 The 3 Best Brain Health Supplements
We've picked the top three nootropic stacks that are available to you right now for cognitive support.
---