BrainMD Neurovite Plus is a multivitamin supplement that comes in 120-capsule bottles and can be purchased on its official website and some other places on the internet.
We're always looking to find out about the latest supplements to come out, so we were naturally curious to learn a bit more about Neurovite Plus. The company behind this product, BrainMD, produces a variety of health & wellness formulas that specifically target cognitive & mental performance.
However, Neurovite Plus is claimed to provide "whole-body wellness" with the additional support of brain-healthy nutrients. You're probably wondering how legitimate are these claims?
We're going to take a close look at the ingredients formula, the doses, benefits, and side effects in this BrainMD Neurovite Plus review to see how it compares to our current highest rated brain health supplements on the market.
So with the intro out of the way, let's take a closer look at the facts about Neurovite Plus as we aim to inspect it from all angles to see if it works or not.
BrainMD Neurovite Plus Review At Glance
If you're looking for a short overview of Neurovite Plus, we've found it to a good multivitamin formula, but not much more. It's got a few good ingredients, such as Resveratrol and Phosphatidylserine.
But it's missing some of the best natural brain boosters. It's also let down by the fact that it hides some of its ingredients behind proprietary blends, which prevents us from assessing their dosages.
Pros
Provides basic support
Good for general health
Contains resveratrol and other beneficial antioxidants
Cons
Missing a few core ingredients
Uses proprietary blends
It's a decent multivitamin, but it's not really a nootropic
---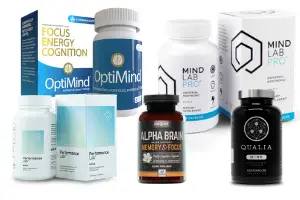 The 3 Best Brain Health Supplements
We've picked the top three leading nootropic stacks that are available to you right now for cognitive support.
---
Claimed Benefits
Total wellness
Immunity  and antioxidant support
Supports optimal brain function
Promotes healthy digestion
How Does Neurovite Plus Work?
Neurovite Plus is marketed as something between a multivitamin, a brain health supplement, and a general wellness formula.
It uses ingredients that help to provide your body with the raw materials needed to perform different biological functions. It doesn't make you a superhuman, but it should be enough to support basic needs of your body.
As far as brain health goes, Neurovite Plus uses a few antioxidants that are claimed to promote blood flow and circulation, which can help with memory. However, we'll see if this is true in a minute, once we look at the ingredients up close!
Who Makes This Product?
Neurovite Plus is made by BrainMD, a company started by Dr. Daniel Amen, a popular American psychiatrist. We appreciate the fact that someone with a high level of expertise behind this company. But, that doesn't automatically guarantee that his products work! For that, we'll need to look into the science behind Neurovite Plus ingredients.
Neurovite Plus Ingredients
BrainMD Neurovite Plus contains a wide range of vitamins, minerals, and antioxidants, along with three proprietary blends.
If you're unfamiliar, proprietary blends contain a mixture of ingredients that are listed as one single dose on the label. Meaning, you can only see the total dose of the blend but not the dose of each ingredient in it. We don't like proprietary blends for one main reason – you can't assess the dosages for safety or effectiveness.
Luckily, Neurovite Plus' proprietary blends are extremely small in weight and shouldn't cause any unwanted side effects. With that out of the way, it's time to take a closer look at the ingredients themselves:
Magnesium (50mg)
 This is an essential mineral that your body needs for countless biological processes. Neurovite Plus only contains 75mg though,which is only 12% of the recommended daily intake. (1)
Boron (1.5mg)
A trace mineral that is known to support bone health and testosterone production in men. However, it can also help prolong the circulation of vitamin D and estrogen in your blood. But while a dose as low as 1.5mg might help you maintain healthy bones, it's not enough for supporting hormonal health. (2)
Lutein (3mg)
An antioxidant often used in eye health formulas. (3)
Zeaxanthin (3mcg)
Pairs well with lutein due to its eye health benefits. (3)
Hesperidin (20mg)
This is a citrus flavonoid from orange peel. Although the research is limited, some early evidence suggests that it might boost circulation. Unknown effects on blood pressure though! (4)
Resveratrol (10mg)
Another antioxidant in Neurovite Plus, the grape-derived Resveratrol helps maintain healthy cell function within your body.
Pterostilbene (20mcg)
Similar to Resveratrol, but rumored to be more potent. However, we'll need to see more evidence to confirm how safe this ingredient is! (5)
Fruit and Vegetable Blend (140mg)
This blend consists of blueberries, spinach, tomatoes, broccoli, and other fruits and vegetables in their powdered form. The weight of the blend is too low so it's unlikely to help with much.
Proprietary Brain Boosting Blend (575mg)
In this blend we have some of the best brain health enhancers, including Acetyl-L-Carnitine and Phosphatidylserine. Shame we can't tell their individual dosages as they need to be dosed precisely in order to provide optimal benefits.
Digestive Enzyme Blend (30mg)
The name itself says everything, it helps to reduce the unwanted side effects of other ingredients on your digestion.
Anything Missing?
A few core brain health nutrients are missing – primarily, Lion's Mane Mushroom, Bacopa Monnieri, and L-Tyrosine.
Lion's Mane is shown in studies to support nerve growth in the hippocampus – the area of your brain that governs memory, thinking, learning, and other cognitive processes. (6)
Rhodiola Rosea makes your body and brain more resistant to stress. It works by upregulating dopamine and serotonin receptors which results in improved mood and cognitive strength. (7)
Bacopa and L-Tyrosine, on the other hand, improve executive function. They're potent at supplying your brain with raw materials needed to create neurotransmitters. This helps with focus and memory, as well as cognitive function in the long-run.
-See This Year's Top Rated Brain Health Supplements-
How to Take (Dosage Instructions)
Neurovite Plus comes in capsules (not tablets). The dosage is 4 capsules daily, best taken with meals and in divided doses. Such as 2 capsules with each of your two first meals of the day.
Side Effects
As BrainMD Neurovite Plus contains a large number of ingredients, some of which don't have their dosages shown on the label, it's possible to experience side effects using it. Including:
Nausea
Stomach discomfort
Insomnia
One user reported having heartburn after taking this product for a while.
However, it's important to note that these side effects aren't common. They tend to occur in sensitive users only. If you have any questions, be sure to speak with your doctor about this product before buying it!
Neurovite Plus Reviews from Customers
On Amazon, Neurovite Plus boasts a great score of 4.3/5 stars at the time of writing this. In other words, this product enjoys a great reception from its users. Although there are a few people who said they didn't feel much from taking it, one user said they felt "like I have an ulcer." Apparently it didn't sit well with their stomach. But for the most part, Neurovite Plus reviews are looking positive!
Price & Value For Money
If looking to buy Neurovite Plus, it will cost you $49.95 on the official website. Considering that you get 120 capsules per bottle, it will last you a month if you take the recommended dosage. We find this to be a decent value for money. However, one thing that drops the rating for us is the proprietary blends and the risk of side effects that they bring.
Where to Buy Neurovite Plus Capsules?
As we've stated, you can buy Neurovite Plus capsules either on the official BrainMD website or on other third party websites like Amazon.
BrainMD Neurovite Plus Review Conclusion
So that brings our BrainMD Neurovite Plus review to an end. What do we think about it? It's not a bad product, that's for sure! However, could it be better? It could!
For one, since this is marketed as a 'brain and body' formula, it should include a few additional proven brain health ingredients. Including Rhodiola Rosea, Lion's Mane Mushroom, Citicoline and others.
It's also using a proprietary blend which is why it doesn't rate as high as it could.
---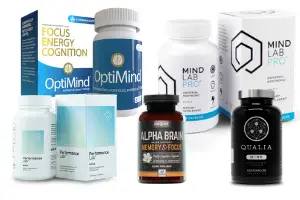 The 3 Best Brain Health Supplements
We've picked the top three nootropic stacks that are available to you right now for cognitive support.
---