BrainMD Brain and Body Power Max is a comprehensive memory & brain support formula developed by Dr. Daniel Amen. It claims to provide you with "complete daily nutrition."
It combines different ingredients from other popular BrainMD products, and delivers it all in packets that you can take on the go. Each packet contains a number of capsules, including multivitamins and omega-3 fish oils.
If you're having trouble with brain fog, poor memory, or lack of mental energy, then you'll want to keep reading this post! In this BrainMD Brain and Body Power Max review, you'll learn how this supplement works and whether it comes with any side effects, as we look to see where it stands compared to the current leading brain health supplements.
BrainMD Brain and Body Power Max Review at a Glance
If you don't want to go through our full report, we've found Brain and Body Power Max to be a mix of good and bad. It's got some fantastic ingredients, including omega-3 fish oils, Ginkgo Biloba, and other 'memory enhancers'. However, there are also a few downsides.
It uses synthetic ingredients which might not sit well with everyone. We also didn't like that it contains Huperzine A which isn't yet proven to be safe to take long-term.
Other than that though, it's a solid product. Even though we don't currently rate it as the safest option, it could work if you're just looking to take it for a short while!
Pros
Great short-term solution
Uses Vinpocetine, a synthetic compound that can help with blood flow
Contains basic vitamins and nutrients like fish oil
No proprietary blends
Cons
Uses a few ingredients that can cause negative side effects
May not be safe to take long-term
Missing a few core ingredients – particularly, Lion's Mane Mushroom, Rhodiola Rosea, and Pine Bark Extract
---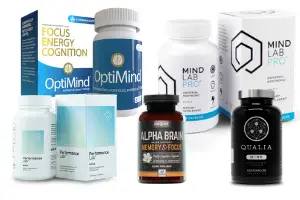 The 3 Best Brain Health Supplements
We've picked the top three nootropic stacks that are available to you right now for cognitive support.
---
Who Makes This Product?
BrainMD is a company founded by Dr. Daniel Amen, an American celebrity doctor. While the company mostly focuses on making brain health supplements, they also have general wellness & fitness formulas that are aimed at people who enjoy staying active.
We've also reviewed other BrainMD products, including:
How Does Brain and Body Power Max Review Work?
Brain and Body Power Max belongs to a category of supplements called 'nootropics,' or brain health enhancers.
It uses a range of ingredients – from basic vitamins and minerals, to herbs – in order to help promote blood flow to your brain. Increased blood flow means you'll have more nutrients and oxygen delivered to your brain cells, which will help you think clearer, and remember things better.
At least that's how the best brain health supplements work! To see if Brain and Body Power Max is one of them, we'll need to dig deeper into the ingredient formula!
Benefits
This is what the marketing material on the official WebMD website claims for Brain and Body Power Max:
Supports memory, recall and retention
Promotes focus and attention
Encourages positive mood and emotional balance
Provides essential nutrients for healeth and longevity
Sounds good! Let's check the ingredients to see if it works as claimed.
The Ingredients
The key ingredients in Brain and Body Power Max include:
Essential vitamins & minerals
Phosphatidylserine
N-Acetyl L Cysteine
Acetyl L-Carnitine
Alpha Lipoic Acid
Ginkgo Biloba
Vinpocetine
Huperzine A
Omega 3 Fats
BrainMD Brain and Body Power Max is a very comprehensive formula – it even contains a digestive enzyme blend that should help reduce stomach cramps and other side effects from taking so many different ingredients at once.
This product is delivered in packets, each containing a number of capsules which are claimed to help support your goals. However, some of the ingredients in this supplement are underdosed which makes them ineffective. We also saw Huperzine A included, which can cause unwanted side effects when you take it long-term.
On the bright side, there's no proprietary blends in this product, which means you know exactly how much of each ingredient is entering your body. Let's look closer at what each ingredient does and how it may help you.
Vitamins and Minerals
Brain and Body Power Max formula contains vitamins A, B, C, E, and D, along with minerals like magnesium and zinc. While these won't necessarily boost your memory or cognitive strength, they still help cover basic nutrient requirements. Which can be a good thing if you aren't eating your 5 a day!
Phosphatidylserine
Phosphatidylserine or PS is a good ingredient. It's naturally found in foods like eggs and needed for the formation of your brain cell membranes. However, BrainMD Brain and Body Power Max uses a cheaper form of PS derived from soy. The best supplements in this category typically use SharpPS Green derived from sunflowers.
N-Acetyl L-Cysteine (NAC)
Fancy name aside, this is a small molecule that helps your liver make more antioxidants. This is a good general health ingredient, though it won't help your memory! (3)
Acetyl L-Carnitine
Acetyl L-Carnitine or ALCAR is another amino acid in this supplement. It can pass through your blood-brain barrier. Although you won't feel it working, it can provide general health support.
Choline
Choline is a nutrient related to B-vitamins. Found in egg yolks and other animal products, it supports brain function and helps with memory. It also helps your liver process fats and supports its function. However, the Choline dosage in Brain and Body Power Max is way too low – it only has 50mg, and you need at least 250mg to get any benefits from it. (4)
Alpha Lipoic Acid
We don't recommend this ingredient as one of the very best brain health compounds. Alpha Lipoic Acid works as an antioxidant, however, there are a few concerns regarding this compound's short half-life and role as a heavy metal chelator in the body. (2) You should talk with your doctor to make sure you're OK to take this one.
Ginkgo Biloba
This is a good choice. Ginkgo Biloba has long been used as a safe and reliable supplement – derived from one of the oldest trees on Earth, the Ginkgo Biloba tree. You'll often see it in supplements of this kind.
Vinpocetine
Derived from the Periwinkle plant, Vinpocetine is a synthetic ingredient that is used for cognitive support. However, it's not as effective as its natural alternative – Maritime Pine Bark extract.
Huperzine A
Derived from Chinese Club Moss, this ingredient can help boost acetylcholine levels in your brain, which is beneficial for memory. However, the long-term effects of this compound are questionable. According to WebMD, it can cause a range of negative side effects (more on that below).
Omega-3 Fatty Acids
Omega-3 fats in Brain and Body Power Max include EPA and DHA, both important for brain health and circulation. No complaints about this one – it's a good ingredient!
Anything Missing?
We were disappointed to see some of our favorite core ingredients missing. These include Lion's Mane Mushroom, Rhodiola Rosea, Bacopa Monnieri, and Maritime Pine Bark Extract. All of which are proven by research to enhance memory, increase mental energy, and protect the brain from stress. You can see the current highest rated supplements that use some of these ingredients by clicking on the links below.
-See This Year's Top Rated Brain Health Supplements-
How to Take (Dosage Instructions)
Brain and Body Power Max dosage is one packet twice per day with your meals. It's not essential to take it with food, however, it's advised to do so if you can. Because it can help with the absorption of some of its ingredients and can reduce the chance of side effects like nausea.
Side Effects
Speaking of side effects, BrainMD Brain and Body Power uses a few questionable ingredients. The biggest concern is Huperzine A, which might not be safe to take long-term and can cause the following side effects:
Nausea
Vomiting
Dry Mouth
Diarrhea
Constipation
Blurred Vision
Loss of Appetite
Insomnia
High blood pressure
Restlessness
Price & Value For Money
BrainMD Brain and Body Power Max will set you back by $139.95. It's a very expensive supplement, which makes sense when you look at how many ingredients it uses. However, even though it has some great ingredient choices, we don't rate it as the best value for money at the moment. More effective options are available for half of the cost.
Where to Buy Brain and Body Power Max?
You can buy Brain and Body Power Max on its official website, or on 3rd party sites like Amazon.
Brain and Body Power Max Review Conclusion
So that brings us to the final part of this Brain and Body Power Max review. If you've read until the end, you've seen that it has some great ingredients that can help you with memory and focus.
But do we rate it as the very best supplement? The answer is no! The two biggest issues that will deter from this product are the price and unwanted side effects. It uses a few questionable ingredients like Huperzine A which might not be safe to take long-term.
Don't get us wrong – this product definitely works! However, whether it's the best choice for you depends on what you're looking for. If you want a product that has some great benefits and that you can take short-term, then it could work for you. But if you're looking for a safe and effective long-term solution, then we recommend doing more research!
---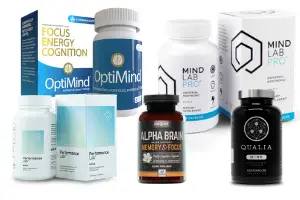 The 3 Best Brain Health Supplements
We've picked the top three nootropic stacks that are available to you right now for cognitive support.
---