BrainMD Serotonin Mood Support is a supplement that is claimed to help reduce negative thoughts, calm the 'monkey' mind, and support healthy weight management.
Featuring ingredients such as 5-HTP and saffron extract, BrainMD Serotonin Support is supposed to help you with:
Mood
Appetite
Overthinking
One positive thing about this product is that it's manufactured in FDA registered facilities. It also doesn't have any proprietary blends! However, there are a few concerns which we'll get into below.
In this BrainMD Serotonin Mood Support review, you'll find out everything you need to know about its ingredients, benefits, and side effects as we aim to see how it compares to our current top-rated brain health enhancers.
BrainMD Serotonin Mood Support Review at a Glance
If you don't want to go through our full review, we've found BrainMD Serotonin Mood Support to be a decent supplement, although it's missing some important ingredients.
The biggest con for us is the price, considering that it only has 5 basic ingredients (some of which lack research).
Pros BrainMD Serotonin Mood Support
No proprietary blends
Contains some basic vitamins
5-HTP provides decent short-term effects
Cons
Potential long-term side effects
Incomplete formula, missing several core ingredients
Expensive considering what it offers
---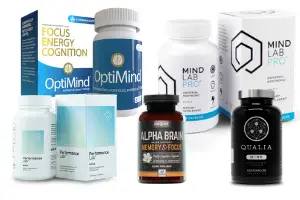 The 3 Best Brain Health Supplements
We've picked the top three nootropic stacks that are available to you right now for cognitive support.
---
Benefits
Here are the claimed benefits for BrainMD Serotonin Support:
Helps you be happy and positive – by supporting serotonin balance
Clears the mind – induces 'tranquil state'
More energy – supports sleep so you can feel rested during the day
Appetite control – serotonin helps regulate appetite and emotional eating
How Does BrainMD Serotonin Mood Support Work?
As the name suggests, BrainMD Serotonin Mood Support aims to enhance your body's natural production of serotonin.
What is serotonin, some of you may ask? It's a naturally calming neurotransmitter that regulates your:
Mood and well-being
Physical movement
Appetite and weight management
According to the website's marketing material, it achieves these benefits thanks to some of its ingredients, which support your brain's natural serotonin synthesis.
However, we don't like to pay too much attention to the manufacturer's claims about their own product. After all, what can you expect them to say?
That it doesn't work? Obviously every company will tooth its own horn, so the only true way to tell if a supplement works or not is by looking at the ingredient label.
Who Makes This Product?
This brain health supplement is made by an American company called BrainMD. Started by a doctor Daniel G. Amen, MD, the company offers a variety of supplements but mostly focuses on brain support formulas.
While the website and products have good marketing behind them, we need to look into the ingredient formula of Mood Serotonin Support to see if it holds up to scrutiny.
The Ingredients
BrainMD Serotonin Mood Support contains 5 ingredients in total. Right off the bat, you'll notice that the formula is transparent, which is fantastic!
We don't like it when products use proprietary blends that prevent us from seeing how much of each ingredient they contain.
As for the ingredients themselves, BrainMD Serotonin Mood Support contains vitamins for foundational support, along with saffron spice and 5-HTP for mood and appetite.
How effective these ingredients are, you'll want to keep reading to find out.
Vitamin B6 (20mg)
Vitamin B6 is a foundational ingredient. It helps to support basic functions within your body. Such as the nervous system, blood flow, and overall mental performance.
But unless you're deficient in vitamin B6, you won't feel anything from supplementing it. It was included in this formula to help prevent deficiency – not to give you a mental boost! (2)
Folate (40mg)
This is another good choice. Folate or vitamin B9 is important for homocysteine metabolism. An amino acid that we mainly get from eating red meat, homocysteine can irritate your blood vessels and cause plaque to build up within small capillaries in the brain.
This is suggested to lead to cognitive decline over time. Vitamin B9 helps prevent this from happening by regulating your homocysteine levels. (3)
Vitamin B12 (500mcg)
Again, this one is great to see as well. If you know a thing or two about nutritional deficiencies, then you're probably aware that vitamin B12 is one of the most common nutrients that people are deficient in.
There are a few reasons for this – one is that our ability to absorb vitamin B12 from food goes down as we age. Another reason is that some people aren't consuming enough animal products which are the best source of this nutrient. (4)
Satiereal Saffron Extract (177 mg)
This product uses a patented form of Saffron extract called Satiereal. What does it do, you ask?
According to Examine.com, it may help with serotonin synthesis in the brain, which means it should improve your mood and reduce appetite.
However, there's a good reason why you won't see this ingredient in many of the best brain health supplements – the science behind it is weak.
Although it was popularized in a well-known American health show, Saffron needs more studies to prove it lives up to the hype. (5)
5-HTP
5-HTP is a direct precursor to serotonin in your brain. While this synthetic ingredient can offer some short-term benefits for mood, it's not the safest solution. It causes side effects in some cases.
(1) We'd much rather prefer to see L-Tryptophan included here, because it's a natural amino acid that you get from food, and converts to 5-HTP in your body naturally.
Anything Missing?
While the formula isn't terrible, we can't ignore some of the best brain health ingredients it's missing. These include:
-See This Year's Top Rated Brain Health Supplements-
How to Take (Dosage Instructions)
The BrainMD Serotonin Mood Support dosage is 4 capsules per day, divided into two doses.
It will work regardless if you take it with or without food; however, it is recommended to take it with food if you can – this can help maximize the absorption of the ingredients.
Side Effects of BrainMD Serotonin Mood Support
BrainMD Serotonin Mood Support does raise some concerns when it comes to side effects.
The only concerning ingredient in BrainMD Serotonin Mood Support is 5-HTP. Although safe in low doses and when taken for a short period of time, 5-HTP is known to cause a range of side effects to some people – especially when taken long-term.
According to WebMD, these are the possible side effects of 5-HTP (1):
Heartburn
Nausea
Vomiting
Sexual problems
Muscle problems
Cardiovascular issues
Customer Reviews for BrainMD Serotonin Mood Support
BrainMD Serotonin Mood Support reviews online are mixed. It has an average rating of 3.9/5 stars at the time of writing this post.
While most users said they didn't experience any difference taking this product, there were some who reported both positive and negative results.
One person said that they liked the product as well as customer service. Another person claimed that vitamin B6 caused them "problems" without going into more detail.
Overall, you get the feeling that its effects are a bit disappointing, considering how much it costs. Speaking of the cost…
Price & Value For Money – BrainMD Serotonin Mood Support
If buying on the official website, BrainMD Serotonin Mood Support will set you back by $49.50. The price itself isn't the problem; the main issue is that it doesn't offer a lot bang for the buck.
The ingredient formula isn't strong enough to make any major difference, which is why we feel that it's not the best value for money!
Where to Buy BrainMD Serotonin Mood Support?
You can buy this product on the official website as well as some other 3rd party websites – including Amazon.com.
BrainMD Serotonin Mood Support Review Conclusion
So that brings our BrainMD Serotonin Mood Support review to a close.
While it's got some decent ingredients, the formula is incomplete. It's missing Rhodiola, Lion's Mane, L-Tyrosine and other proven ingredients that you'll see in some of the market's leading supplements.
It also uses 5-HTP which may work for some people, but if you want to avoid its potential side-effects, a natural ingredient like L-Tryptophan would be a much safer long-term option.
To be fair, it's not the worst product out there, but you'll need to do more research if you're looking to get the absolute best value for your money!
---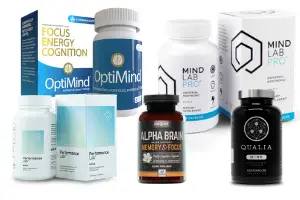 The 3 Best Brain Health Supplements
We've picked the top three nootropic stacks that are available to you right now for cognitive support.
---