Noocube is one of the more popular nootropic stacks on the market right now.
It's been praised by reviewers and customers from all over the internet, so we were naturally keen to see how it compares to the current highest-rated brain supplements on the market.
Noocube includes a number of ingredients that are known to influence our cognitive function and mental well-being. Among these ingredients we have L-Tyrosine, which is one of our favorite nootropics.
However, there are a few concerns in regards to Noocube. Certain ingredients should be cycled, which is odd, considering that some other ingredients in Noocube need to be taken long-term to benefit from them.
So, what's our thoughts on this product? Does Noocube really work? Is it free of side effects? Below we'll give you a quick summary of this Noocube review, and then further down below we'll break everything down in more detail.
Noocube Review at a Glance
We've found Noocube to be a mixed bag of everything. It's got some great ingredients, such as Bacopa Monnieri and L-Tyrosine. These can help you with memory and mood.
Cat's Claw and Oat Straw, on the other hand, seem to be copied from Alpha Brain's formula. We aren't sure why though, since these two ingredients aren't proven to work.
Other than that, we have a few underdosed ingredients, including Alpha GPC, which is a shame – this is probably the best nootropic in Noocube overall. On the whole, you'll get some benefits from using this supplement, but you have to ask yourself is it worth the premium price.
Pros
Effective Bacopa dose
Free shipping and discounts on bulk orders
Can help enhance memory, but you need to take it long-term for that purpose, which might be unsafe
Cons
Paradoxically, it's not recommended to take this product long-term as it contains Huperzine A which needs to be cycled
The dosages of some ingredients are too low
Missing some core nootropics, including Lion's Mane and B vitamins
---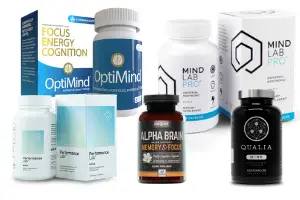 The 3 Best Brain Health Supplements
We've picked the top three leading nootropic stacks on offer right now to support your goals.
---
How Does Noocube Work?
If you're new to nootropic supplements, you might wonder how they work. It's difficult to give an universal answer because each nootropic is different. But in essence, they all share one thing in common – the goal to boost your brain function.
[alert type="info" icon-size="normal"]Some nootropics focus on improving your memory, others are more geared towards enhancing your mental well-being. Whatever the case, these supplements are legal, non-addictive, and in most cases, perfectly safe to take.[/alert]
This is due to the fact that nootropics like Noocube use only natural ingredients. Including herbs, plants, vitamins and minerals, some of which you'd normally found in food. But nootropics concentrate them into more potent doses.
Nootropics are ideal for anyone who's looking to improve how they feel and perform during the day. So whether you're a college student, a busy professional, an athlete, or simply an active person who wants to keep a sharp and youthful mind – then nootropic supplements are well worth considering.
Claimed Benefits
According to its producers, Noocube offers these benefits:
Enhanced cognitive function
Heightened focus and concentration
Enhanced learning power
Better memory
Who Makes This Product?
The company that makes Noocube is called Wolfson Berg Limited. This is the same company that makes other well-known supplements, including the controversial CrazyBulk line which is marketed as "legal steroids".
When it comes to nootropics though, Noocube is their most popular brand. The company has been around for over a decade now and prides itself on its focus on quality and research to provide supplements that enhance the body and mind naturally.
For anyone interested, our research team discovered that this company is based in Larnaca Cyprus.
The Ingredients
Onto the meat of the matter now – the ingredients. The good news is that this product only has 7 ingredients, and their doses are clearly shown on the label. This cuts down the risk of side effects significantly.
The ingredient choice is good for the most part, with a few underresearched nootropics slightly tainting this otherwise decent formula.
Another thing that's a bit odd is the dosages – some of the ingredients come in too low a dose, which means their effects are lesser than optimal.
But since it's a safe formula, at least there's not much to worry about in terms of side effects!
Alpha GPC
Alpha GPC is the whitish powder that's used to improve alertness. But what does the science say about this compound?
Well, Alpha GPC is shown to provide our brain with a highly bioavailable source of choline, a nutrient essential for the synthesis of memory-boosting brain chemical acetylcholine. (2)
However, although Alpha GPC is good for improving learning and memory, it's not as effective as Citicoline – currently the best source of choline available for nootropic purposes.
Why is Citicoline better? Because it provides you with uridine in addition to choline, which is another natural compound that provides cognitive benefits. (3)
The biggest problem, however, here is that Noocube contains a meager 50mg of Alpha GPC, which is nowhere near the optimal dose.
Huperzine-A
Or Huperzia Serrata is an ingredient sourced from Chinese club moss. It's popular among fitness enthusiasts for its ability to enhance focus in the gym. And some studies show it has the potential to ward off cognitive decline.
This ingredient, however, isn't the safest long-term option. According to WebMD, Huperzine A can cause a wide range of side effects, including headaches and memory loss. That's why we recommend cycling this ingredient every several weeks. (1)
Cat's Claw
This is an ingredient native to Central and South America. It grows in the wild and looks like woody vine. The name comes from its interesting, claw-shaped thorns.
As far as its nootropic benefits go, Cat's Claw has certain antioxidants that are neuroprotective. And although it's still a relatively understudied ingredient, it doesn't appear to cause any harm to its users.
Bacopa Monnieri
Bacopa is one of our favorite nootropic ingredients here at Valentino's Naturals. Why? Well, where do we start…
This adaptogenic herb has a wealth of beneficial effects on the brain. Its active compounds, Bacosides, are known to protect brain cells from damage and oxidative stress. (4) What's more, Bacopa helps balance your neurotransmitters like dopamine and serotonin for a more positive outlook and mood.
On top of that, Bacopa is one of nature's best memory enhancers. It does take a long time to show its full effects (8+ weeks of daily use), but most people love it.
*In some people, Bacopa can lead to lethargy and lack of motivation. Although there's no clinical evidence to confirm these effects, some Reddit users have shared these findings, so we thought it was worth mentioning it here.
Oat Straw
Oat straw or the common oat is the same one we eat for breakfast, except Oat Straw is the green part of the stem. It usually gets discarded after oat harvest.
However, some people argue that this ingredient possesses some amazing health benefits. Is this true, or just an empty rumor? Well, the science behind Oat Stra's nootropic effects is very weak at the moment, so we wouldn't recommend it as one of our favorite brain health ingredients.
L-Theanine
L-Theanine is a wonderful ingredient naturally found in green tea. It's an amino acid that soothes the mind by activating alpha waves. This reduces stress and makes you calmer. You do need 150mg of L-Theanine or more to notice the benefits, however. Sadly Noocube only contains 100mg of the compound per serving.
L-Tyrosine
This is a great ingredient in Noocube. It's helpful for a variety of things, which is why we rate it as one of the best nootropic ingredients at the moment.
[alert type="info" icon-size="hide-icon"]
What Are Our Thoughts on Noocube's Formula?
Noocube is a decent nootropic. Compared to many products on the market right now, the formula looks safe and not likely to cause harm.
The dose of Bacopa and Tyrosine looks great, and you also get some antioxidants included. Together, these ingredients can help calm you down, and perhaps help with memory.
However, considering how much this product costs (more on that below), we feel that Noocube is far from being a perfect nootropic.
The inclusion of Huperzine A means you'll have to cycle this product on and off, which makes the Bacopa a lot weaker (you need to take it consistently).
The Alpha GPC in Noocube is severely underdosed – so much so that it won't have much of an effect on your cognition. You need at least 150mg of Alpha GPC daily to notice any benefits.
Skimping on these dosages, and using some questionable ingredients, and yet still having a premium price tag, means this product isn't the best value for money. Noocube is also missing some core nootropic ingredients – including Lion's Mane, Rhodiola, and others.
Oat Straw in Noocube isn't backed by much research to do anything really. Cat Claw doesn't fare much better either; except that it has a lot of marketing and hype behind it.
[/alert]
-See This Year's Top Rated Brain Health Supplements-
How to Take (Dosage Instructions)
Noocube dosage is 4 capsules per day, spread into two daily servings – one in the morning and one in the evening. You should avoid taking more than 3 capsules of Noocube at once.
The best way to take Noocube is with water and on an empty stomach. Needless to say, avoid taking it with any kind of medication. If you suffer from a medical condition, then talk to your doctor before adding a nootropic into your life.
Side Effects
Noocube should be safe for most people when taken short-term. The dosages are relatively light, which at the same time comes at the cost of effectiveness of this product, but at least ensures that you don't experience any adverse reactions.
However, even with that said, it's possible to experience side effects from taking Noocube long-term. This is due to Huperzine A which should be cycled on and off. Common side effects include (1):
Loss of appetite
Headaches
Slow heart rate
Worsening of asthma symptoms (if you already have them)
Sleep issues
Customer Reviews
Although there are no Noocube reviews on Amazon since it isn't officially sold there, some nootropic and health forums give Noocube 4 or 5-star ratings. Overall, it seems that Noocube is well-accepted by people online.
The only issue we have with customer reviews is that they can be easily moderated and manipulated. So it might not be the most reliable source of information when gauging how good (or bad) the product is.
RELATED: The Three Best Brain Supplements on the Market
Value For Money?
You can only buy Noocube on its official website at the moment. Each bottle gives you a 1-month worth of the supplement. You can save some money by purchasing in bulk. For instance, if you order 2 bottles you get one for free.
So basically, if you want to save more you'll want to order in larger quantities. They also have free shipping and money-back guarantee deals in place at whichever plan you choose.
Despite all of this, we don't rate Noocube as one of the best value for money products in its category right now. The reason?  The ingredients aren't what they're marketed to be. Noocube is an underdosed product, and it's missing a few core nootropics – which makes it not worth the investment.
Noocube Review Conclusion
So that brings us to the very end of this Noocube review. We think that Noocube is kind of similar to Alpha Brain, but better. It contains many of the same nootropic ingredients – the difference is, Noocube's formula is open sourced, whereas Alpha Brain's is masked in a proprietary blend.
One big downside of Noocube is the ingredient doses. Granted, L-Tyrosine and Bacopa come in plentiful amounts, but the rest of the formula is too light. Which results in… well, sub-par results.
The good side to this is, you shouldn't experience any negative side effects from such light doses of ingredients. The only concern is Huperzine A, which you should take a break from every few weeks to avoid risky effects.
But aside from that, Noocube doesn't offer too much. There's no real 'kick' to it. If you're looking for complete cognitive optimization, then we'd recommend doing more research, as this one is a little too expensive for what it offers!
---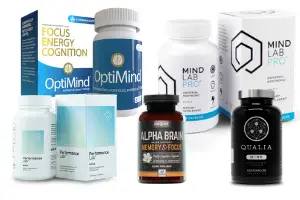 The 3 Best Brain Health Supplements
We've picked the top three leading nootropic stacks on offer right now to support your goals.
---