Brain supplements, or nootropics, have really taken off in recent years.
With the latest advancements in nutrition technology, we're now seeing more and more supplements that can reliably improve your mood, information recall, thinking clarity, and general cognitive processes.
Nootropics are simply a combination of natural ingredients – vitamins, nutrients, plant extracts – that have been shown to boost a person's brainpower in some way. This makes them a safe and gentle alternative to some prescription pills that often come with a long list of side effects.
However, with this rise in popularity also comes an increase in competition. There are now tons of nootropics to choose from. Many of them are good, and some are complete gibberish. How do you tell which is right for you?
Not to worry because today we've done the legwork for you! In this particular comparison, we'll be looking at two very popular supplements – Neuriva vs Alpha Brain. We'll compare their ingredients, serving sizes, and other aspects to determine which one is better value for money, and which one will give you more significant benefits.
Let's get into it!
What are our current favorite brain supplements?
Neuriva vs Alpha – The Basics
Here we'll give you a brief overview of both supplements and key things you need to know, such as; their serving sizes, prices, company overview and a few other important things!
A little about Neuriva
Neuriva is one of the most hyped brain supplements around. Looking at over 3,000 of its Amazon reviews, you'll see a lot of positive testimonials from users.
I'll say this, though. Some of these reviews could be faked due to how easy it is to create a paid review on Amazon!
Neuriva contains 30 capsules per bottle and costs around $26 on Amazon, and $32 on the official website.
The official recommended dosage for Neuriva is 1 capsule daily with your meal.
You've probably seen there are 2 versions of Neuriva available to buy – Neuriva Original and Neuriva Plus. Since this is Neuriva vs Alpha Brain comparison, we'll only be talking about the original – but if you're curious, Neuriva and Neuriva Plus are basically the same supplements with very few small differences.
Okay so, what can Neuriva do for you? According to its well-established manufacturers, Schiff Vitamins, Neuriva helps improve 5 aspects of your brain performace, including:
Focus
Memory
Learning
Accuracy
Concentration
Schiff Vitamins have been around since the early 1900s, and have some excellent quality formulas in their catalog. However, I'll say right off the bat we were a little disappointed with Neuriva specifically, as it lacks in many of the aspects we think make an effective brain supplement.
Part of the reason for our lackluster first impressions is that Neuriva has only 2 ingredients (detailed analysis below).
All we'll say for now is that 2 ingredients alone – even if they're proven to work – aren't enough to give you significant benefits compared to more comprehensive nootropic formulas.
A little about Alpha Brain
Alpha Brain is one of the early nootropics that have come out; in that sense, it's an 'older' formula than Neuriva.
Alpha Brain first took off when people like Joe Rogan started promoting it online. Alpha Brain certainly has that mass appeal; a stylish black bottle with cool-looking graphics, attractive pictures, strong claims, and of course, celebrity endorsement.
But looking past the marketing, what's actually inside of Alpha Brain?
For starters, it gives you 60 capsules per bottle. The recommended dosage is 2 capsules with your meals.
Taken daily, Alpha Brain is said to help boost your cognitive functions, such as:
Your memory;
Focus;
Mental speed
Alpha Brain is made by Onnit; a brainchild company of Aubrey Marcus, a well-known biohacker, author, public speaker and "unconventional fitness junkie".
– Neuriva and Alpha Brain are both available on Amazon –
Check Prices: Neuriva | Alpha Brain
While Alpha Brain has more ingredients than Neuriva, it's not without its downsides. The main issue with Alpha Brain is the transparency of its label; or should I say, lack thereof! Since the ingredient doses are hidden within proprietary blends, there's no way of knowing if they're dosed safely and effectively.
See for yourself:
Neuriva vs Alpha Brain: The Ingredients
As you've seen above, both Neuriva and Alpha Brain have some major issues that we feel need to be addressed.
In Neuriva's case, the issue is the lack of more proven ingredients. In Alpha Brain's, it's the usage of proprietary blends which mask ingredient doses.
Let's take a closer look;
Alpha Brain Ingredients
Alpha Brain has 3 proprietary blends. In each of these blends, you'll see multiple ingredients that are stuffed together as a single value on the label. Meaning, you can see these ingredients' combined dose, but not their individual doses.
This leaves me in the dark guessing how effective or safe they are!
That being said, the ingredients in Alpha Brain themselves look good.
Here, take a look:
Vitamin B6 (10mg)
Onnit Flow Blend (650mg) – L-Tyrosine, L-Theanine, Oat Straw Extract, Phosphatidylserine, Cat's Claw Bark.
Onnit Focus Blend (240mg) – Alpha GPC, Bacopa Monnieri, Toothed Clubmoss (Huperzine A)
Onnit Fuel Blend (60mg) – L-Leucine, Pterostilbene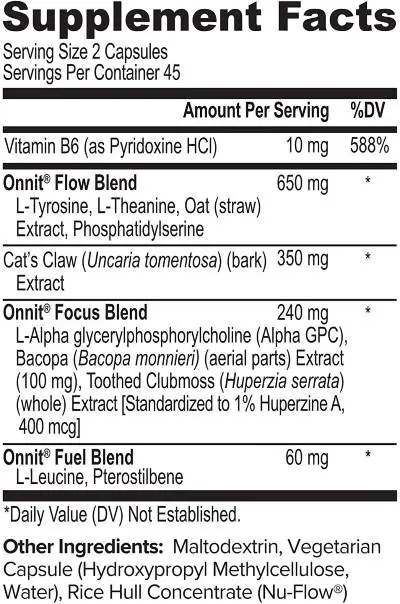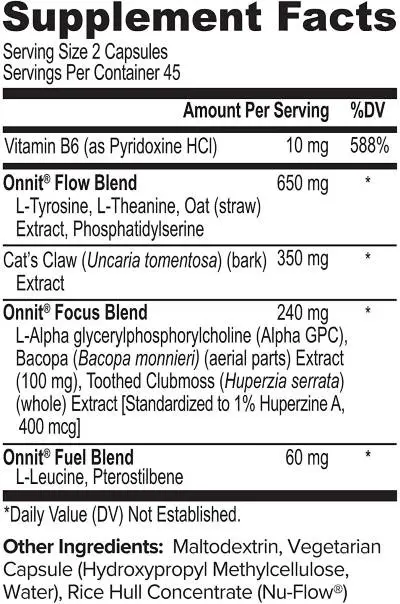 Onnit has made some smart choices here. Alpha Brain contains vitamin B6 which is essential for producing energy and keeping you mentally alert. People with vitamin B6 deficiency tend to 'drift off' during conversations and easily get distracted.
L-Tyrosine offers even more powerful benefits, such as a reduction of stress. L-Tyrosine works by providing your brain with natural building blocks for dopamine, a neurotransmitter that ensures optimal mental functioning and mood.
Studies show that L-Tyrosine, when taken in the doses between 1,000mg-2,000mg, can notably reduce the effects of stress on your concentration and cognitive processes.
L-Theanine, much like L-tyrosine, is a natural amino acid found in some foods and drinks. It works especially well with caffeine to smoothen out the jitters.
The rest of Alpha Brain's formula doesn't blow us away.
It contains Alpha GPC which is decent, but the more effective alternative is CDP-Choline, which is more readily absorbed in your brain.
As for L-Leucine, it's a muscle building ingredient common to fitness supplements – not nootropics!
Huperzine A, while hyped in the nootropic community, is actually harmful when taken long-term and in excess doses – it's been shown to lead to headaches and memory loss. Again, we don't know the doses of any of these ingredients in Alpha Brain.
So while we can say Alpha Brain uses some of our favorite nootropics, it's tough to say if they work at all, or if they can cause side effects due to being over-dosed. 
Neuriva Ingredients
As you've seen at the beginning of our review, Neuriva's makers have put all of their hopes in 2 ingredients – Coffee Fruit Extract and Phosphatidylserine (PS), both in doses of 100mg per serving.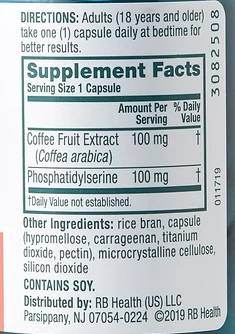 Out of these two, Phosphatidylserine (PS) is the only one that is shown to work.
PS is a phospholipid naturally occuring in your brain cells and is a great nootropic supplement. At the light dose of 100mg per day, it's also safe to take long-term. It works by supporting your brain's plasticity and repair – which can help against cognitive decline.
Coffee Fruit Extract (Neurofactor), on the other hand, is an unproven ingredient. One study, on which Neuriva's manufacturers rely, showed an increase in brain growth factors following Whole Coffee Fruit Concentrate supplementation.
The issue is, Neuriva doesn't use Whole Coffee Fruit Concentrate, but an extract of one of Coffee Fruit's parts. Which part is it? We don't know!
Even if it used the whole fruit concentrate, there's only one study that shows it can do something. This is not enough to draw any conclusions! What are the long-term side effects, for example? The study didn't look into this.
Our Thoughts on the Ingredients in Neuriva vs Alpha Brain
While Neuriva has a clear and transparent label, the same can't be said for Alpha Brain. In that regard, Neuriva is a safer supplement. But is it effective? Not nearly as effective as some alternatives that are currently available!
Neuriva only has one good ingredient – Phosphatidylserine.
Coffee Fruit Extract, as we discussed above, has no solid evidence to be called a proven ingredient.
And Phosphatidylserine alone isn't enough, especially at such a light dose (100mg per day). For complete brain optimization – mood, memory, reasoning, recall, concentration, blood flow, cognition – you'll want to combine multiple proven nootropic ingredients to get the best effects.
Side Effects: Which is Safer?
Even though it doesn't work as well as marketed, Neuriva is the safer option because you know how much of what you're getting.
Alpha Brain, on the other hand, doesn't show you its ingredient doses. Potential side effects of taking too much Huperzine A and other stimulants include;
Headaches
Memory loss (ironically)
Insomnia
Customer Reviews
Neuriva has over 3k reviews on Amazon with an average score of 4.2/5 stars. It's got a really good score, with most users praising how gentle and safe it is. As I said early on, a lot of these reviews could be paid testimonials, and there's no way to know.
From my own experience, I'd say Neuriva is a safe supplement, so at least you shouldn't worry about the side effects.
Alpha Brain has over 8,000 Amazon reviews of its own, most of them being positive and excellent. Again, knowing the power of Onnit's PR machine, it wouldn't be too hard for them to get Alpha Brain to 4.5 out of 5 stars like it currently has on Amazon.
Price
90-count bottle of Alpha Brain will set you back by $79.95 on Amazon and the official Onnit website. This will last you 45 days, which means that the price per serving is $1.75. You can buy it by clicking here.
Neuriva costs $32.99 for a month's supply, which means it costs $1.1 per serving – considerably cheaper than Alpha Brain. You can get the best Neuriva price here.
[RELATED: The Three of the Best Brain Health Supplements on the Market]
Conclusion to Neuriva vs Alpha Brain
That concludes our comparison.
While we don't rate either Neuriva or Alpha Brain as the very best nootropic supplements, Neuriva is the winner in our eyes for one simple reason; its manufacturers don't hide ingredient doses on the label. Even though Neuriva is missing many of the best nootropic ingredients, you at least know what you're paying for.
Alpha Brain, on the other hand, uses some of the best nootropic ingredients, but their doses aren't shown on the label. As a result, we can't assess how this supplement will work for you. Taking it is like throwing a dice; you really don't know what you're going to get.
Possibly, you may not get any effects at all because the ingredients are underdosed, or you may get side effects because some ingredients have too high a dose. It's impossible to tell. The price of $79.95 is also a bummer, though you can save significantly if you subscribe for a monthly Alpha Brain delivery on Onnit's website.
Are There Better Alternatives?
Yes! We test over 30 nootropic stacks every year, comparing them against each other to find the safest, most effective formula on the market.
We really go deep in our individual review, but to sum it up, our criteria for these nootropics include;
Safe, clinically studied, and 100% natural ingredients
Mood, cognition, mental sharpness
Improves memory and recall
Supports long-range brain function
Strong brand authority
Money-back guarantee and easy return process
Worldwide shipping
To see the current highest rated natural brain supplements, click on the image below to see our top 3 picks.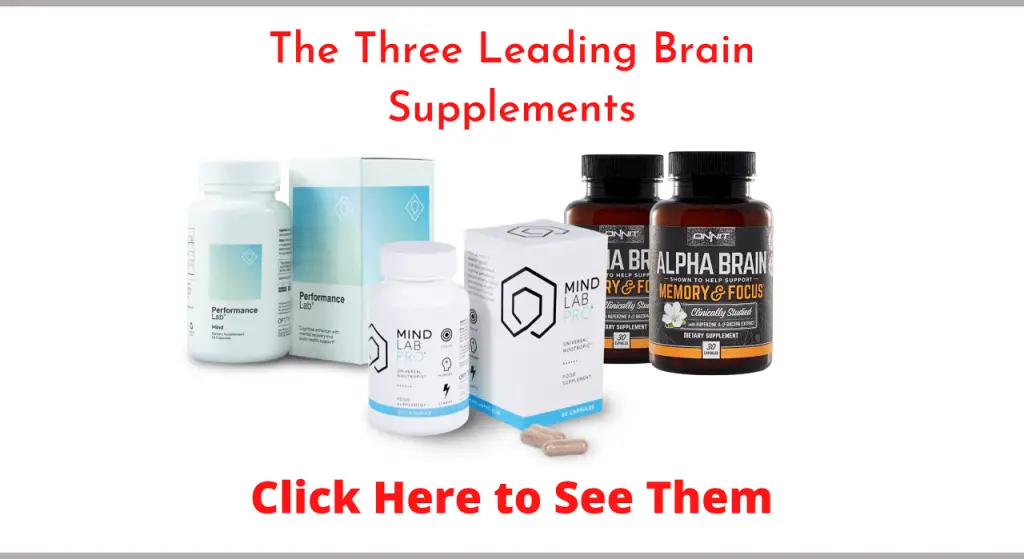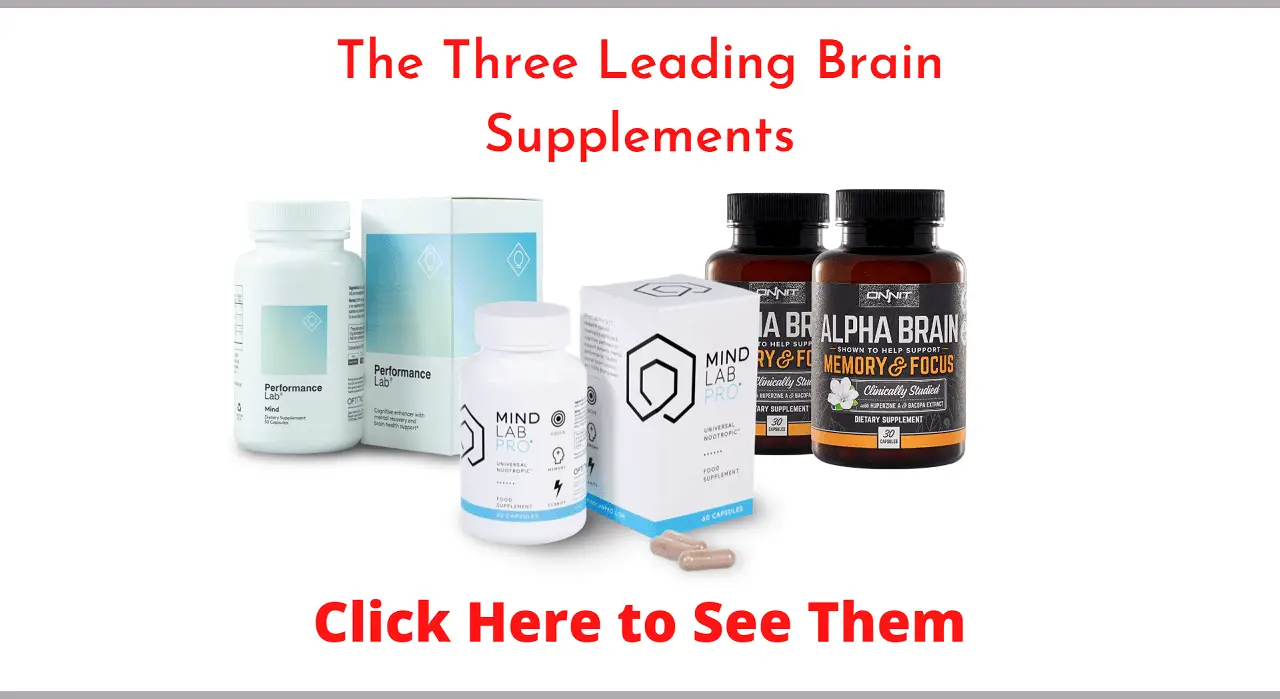 References
https://www.ncbi.nlm.nih.gov/pmc/articles/PMC1863555/
https://www.ncbi.nlm.nih.gov/pmc/articles/PMC6836118/
https://pubmed.ncbi.nlm.nih.gov/23312069/
https://www.alzdiscovery.org/cognitive-vitality/ratings/huperzine-a#:~:text=Serious%20side%20effects%20have%20not,long%2Dterm%20safety%20is%20unknown.