Prevagen vs Neuriva Plus – which one is better?
In this article, we bring these two brain performance nootropics face to face to help you decide which one is right for you.
Prevagen vs Neuriva Plus SUMMARY (UPDATED for 2021): While neither Neuriva or Prevagen make it on our top 3 list, Neuriva Plus is the winner of the two.
It has more ingredients (5 compared to Prevagen's 2), costs less, and is more effective at doing what it claims. AKA, helping you with memory, focus and cognitive function. Prevagen only has vitamin D going for it – the remaining ingredient, Apoaequorin, isn't backed by evidence to work.
-Click to See the Current Top Rated Brain Health Supplements-
Choosing Your Nootropics
Nootropics are supplements that help support your goals. They often consist of vitamins, minerals, herbs or other natural compounds that have beneficial effects on your cognitive performance.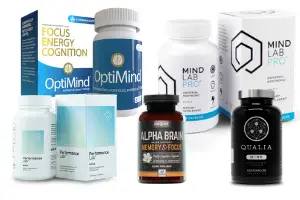 The 3 Best Brain Health Supplements
We've picked the top three nootropic stacks that are available to you right now for cognitive support.
Nootropic supplements work no matter if you're 50+, a student, a busy parent, a gamer, or a CEO.
However, people who benefit the most from taking nootropics are those who need to perform on a high level mentally, and those who experience a lot of stress in their everyday life.
Taking a good quality nootropic can help with certain aspects of brain health and improve how you feel and think. This includes brain blood flow, brain energy, neurogenesis, and mood-regulating brain chemicals.
Neuriva Plus vs Prevagen Overview
So, after researching some products you've come down to these two: Prevagen or Neuriva Plus. Which one is better?
Prevagen claims to give you these benefits:
Supports a healthier brain
Helps you have a sharper mind
Improves mental clarity
Neuriva Plus, on the other hand, claims the following:
Supports memory & focus
Enhances learning & accuracy
Improves reasoning
In case you're wondering, we don't recommend either of these supplements as the current most effective nootropics on the market. For that, you'll want to check our top 3 list.
But what exactly made us pick Neuriva Plus over Prevagen? Scroll down below to find out – we'll look at the ingredients, benefits, side effects, and more.
 – Both supplements are available on Amazon –
Get Prices: Prevagen | Neuriva Plus
Company Reputation
Prevagen is made by a company called Quincy Bioscience. They're from Wisconsin USA. If you check their official website, you'll be greeted with an "about" section where you'll learn a bit about the company history and see a few images of their team.
Although we appreciate this, the design of the website looks a bit outdated and generic. So, it's probably best to focus on something more 'solid,' aka, Prevagen's ingredient profile.
According to the producers, the secret behind this supplement is its main ingredient – Apoaequorin. It's supposed to help you maintain a youthful and sharp brain. More on that in a second.
Neuriva is produced by Schiff Vitamins. This company has been around since 1936. During this time, they've produced a variety of products – their currently most popular nootropic formula is Neuriva.
The company claims that they "balance nature and science." Their clean and modern website is a big contrast to Prevagen's, and certainly looks more appealing to me as a customer.
RELATED: The Three Best Brain Supplements on the Market
The Ingredients
Here's the most important part of this Prevagen vs Neuriva Plus comparison – the battle between their formulas.
Disregard the fancy websites or stylish packaging – what it ultimately comes down to are the ingredients. They're the ones that ultimately decide how (in)effective the product is. See for yourself:
Prevagen Ingredients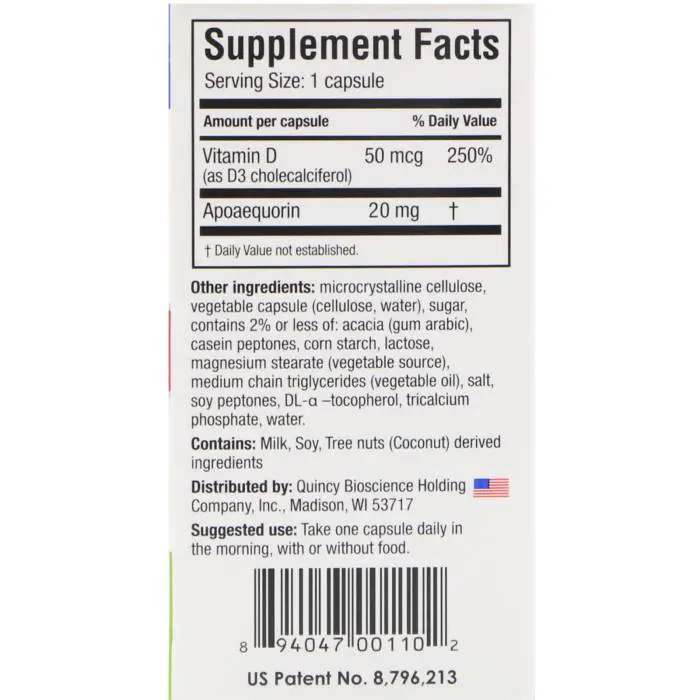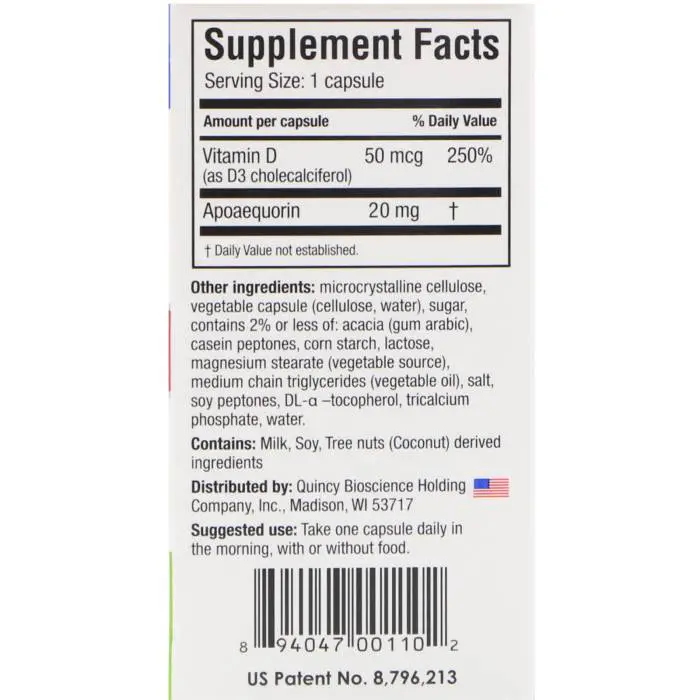 Prevagen only has 2 ingredients, these include vitamin D and Apoaequorin. Most of us know how important vitamin D is – it helps you maintain a strong immune system and even supports natural testosterone production. This is a great inclusion in Prevagen for sure.
However, the main star of Prevagen's formula is Apoaequorin. This is a type of protein that comes from glowing jellyfish, and can apparently enhance your memory and sleep. Is this true, though?
Well… the science is iffy on this one. There's only one reputable study behind this ingredient, and it didn't show any mental benefits. Not only that, but Prevagen's makers, Quincy Bioscience, have been sued for "false advertising claims" by The Federal Trade Commission in the past.
Ultimately, it seems that Prevagen's formula only has one ingredient that can support your brain function – vitamin D. The same nutrient that you can get from the sun or foods like fatty fish.
Or you can simply get it from an inexpensive vitamin D supplement.
Neuriva Ingredients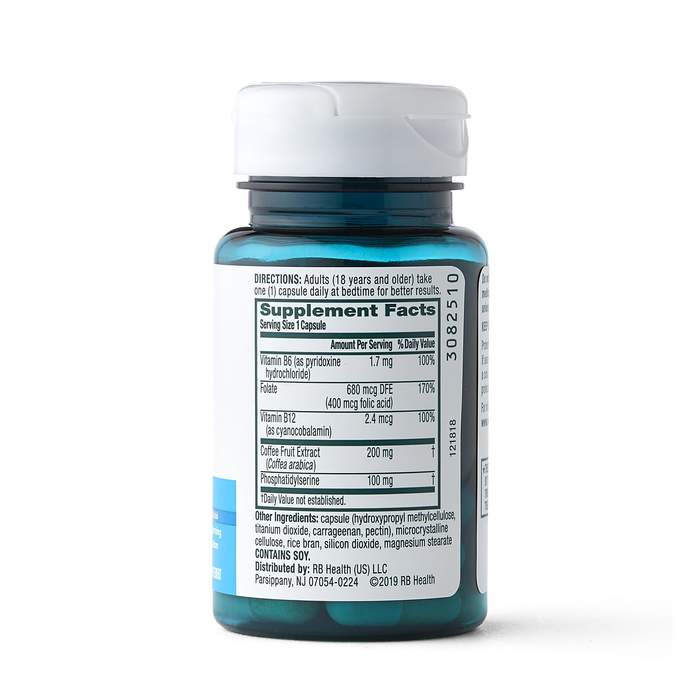 Neuriva uses 5 ingredients in total. Three of those are basic vitamins like vitamin B6, B9 and B12.
Vitamin B6 has many small benefits for your body and the brain. It helps with mood swings, stress, and cognitive function. The more deficient in vitamin B6 you are, the more benefits you'll notice from taking it.
Vitamins B9 and B12, on the other hand, help reduce homocysteine, which is an amino acid that can clog up your arteries and small capillaries in the brain.
However, the two main stars in Neuriva Plus are Coffee Fruit Extract and Phosphatidylserine.
Even though it doesn't have any actual caffeine, Coffee Fruit extract has some slim evidence that shows it's good for your brain. It is said to boost a protein called BDNF, which helps grow new brain cells but goes down as you age.
Phosphatidylserine (PS), on the other hand, is a vital brain nutrient. It's needed to create membranes of your brain cells, and helps with neuron to neuron communication.
People that take PS report having less brain fog and more mental clarity. If you do work that involves a lot of thinking, PS can help you stay productive for longer.
Sadly that's all you're going to get from Neuriva Plus. Although the ingredients themselves are good, the formula is incomplete – it's missing a few key brain health ingredients, such as Lion's Mane Mushroom, Rhodiola Rosea, Citicoline and others.
To conclude this round: While Prevagen has vitamin D which is helpful for your brain function, it's no match for Neuriva's formula.
Neuriva has some downsides too and is missing a few core ingredients, but is more effective at doing its job than Prevagen.
---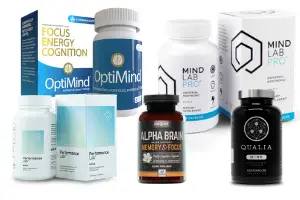 The 3 Best Brain Health Supplements
We've picked the top three nootropic stacks that are available to you right now for cognitive support.
---
Dosages & Servings
Prevagen dosage is 1 capsule per day with water. Each serving contains 10mg of Apoaequorin. We don't know if this is the correct dosage as there isn't enough evidence on Apoaequorin in humans in general.
Neuriva Plus dosage is also 1 capsule, but you should take it before bedtime. The product's label doesn't say whether you should take it with water or food. Taking it with food could boost the uptake of fat-soluble nutrients into the brain, so I'd go with that.
Prevagen vs Neuriva Plus  – Side Effects
Prevagen vs Neuriva Plus in terms of side effects – which one is safer?
The truth is, neither of these should cause you side effects. Both products use light doses of ingredients, which does come at the cost of effectiveness but at least there's no risk.
Even though Prevagen does lack research in terms of its main ingredient, Apoaequorin. What little evidence we've seen so far shows that Apoaequorin is a harmless ingredient.
Prevagen vs Neuriva Plus – Customer Reviews
Both products are popular on sites like Amazon.
Prevagen has over 345 reviews at the time of writing this, with an average rating of 3.5 out of 5 stars. You can check Prevagen's customer reviews on Amazon by clicking here.
Neuriva Plus has over 358 reviews and has a slight edge with an average rating of 3.6 out of 5 stars. You can check Neuriva Plus' customer reviews on Amazon by clicking here.
Price and Value For Money
Prevagen costs around $39.99 for a month's worth of product on Amazon.
Neuriva Plus costs around $22 for a month's worth of product on Amazon.
So, Neuriva or Prevagen … which is better value for money? Is Neuriva better than Prevagen? For me, yes. Not only is it more affordable but it also boasts a proven ingredient formula.
It can help your mood & cognitive performance, not to the same extent as other nootropics but it's still decent.
Where to Buy?
You can buy Prevagen on Amazon.com by clicking here.
The same is for Neuriva, which you can buy on Amazon.com by clicking here.
Original Neuriva vs Prevagen
Okay, we've seen that Neuriva Plus is better at doing its job than Prevagen. But what about Neuriva Original?
This product has fewer ingredients than Neuriva Plus. So, does it still have an edge over Prevagen?
The answer is yes, BUT! It's nowhere near what a good nootropic should be. Neuriva original contains only 2 ingredients – Phosphatidylserine and Coffee Fruit Extract. Phosphatidylserine is a good choice, but you won't notice it working on its own.
Coffee Fruit Extract, on the other hand, is lacking research to confirm if it works. So while even original Neuriva is better than Prevagen, it's not the best option money can buy you – far from it.
Final Verdict on Prevagen vs Neuriva Plus
And that's pretty much it. You've seen the ingredients, the servings, customer reviews and the benefits. So, which is better, Prevagen or Neuriva Plus?
For me, Neuriva Plus is the clear winner of this comparison. Even though it's far from the best supplement we've seen, it has better ingredients than Prevagen, more positive user reviews, and costs less money.
Prevagen has vitamin D which is a great ingredient, but it's not enough on its own. A truly great nootropic formula will include multiple proven ingredients.
The other ingredient in Prevagen hasn't been shown in research to help with anything really, so I can't recommend it to our readers at Valentino's Naturals.
Prevagen vs Neuriva Plus Conclusion
To quickly summarize, here are the key points from this Neuriva Plus vs Prevagen comparison:
Prevagen Key Points: 
Safe
Contains vitamin D which helps with testosterone, mood, memory, and overall health (if you're deficient in it)
Besides vitamin D, it only has one other ingredient, Apoaequorin, which is ineffective
Simple to take, 1 capsule per day
Pricey ($40 bucks for 30 servings)
You can buy it on Amazon.com
Neuriva Plus Key Points:
Safe
Contains 5 well-studied ingredients
Light and safe formula
Simple to take, 1 capsule per day
Affordable, about $22 bucks for 30 servings
Missing some core nootropic ingredients
You can buy it on Amazon.com
> View our Current #1 Rated Product <
---
Prevagen vs Neuriva Plus Related Posts
*Individual results may vary. Please speak with your doctor or physician before undertaking any new weight reduction, supplement, or exercise regime.
**Prevagen vs Neuriva Plus Disclaimer:  The information on this site has not been evaluated by the FDA. The products on this page are not intended to diagnose, treat, cure, or prevent any disease.
Results in description and Testimonials may not be typical results, and user experiences might vary. We may earn a commission if you click the links and buy the products featured on this page.