Neuriva Plus vs Focus Factor: which one is better? We bring these two brain supplements face to face to help you pick the right one for you.
Both Neuriva and Focus Factor belong to a group of supplements known as 'nootropics'. Which pertains to supplements that support your memory, focus and other cognitive functions.
Neuriva Plus vs Focus Factor – The Basics
Neuriva Plus is a popular product, and so is Focus Factor. But how do they compare to the current best rated brain supplements? Let's crack on with this post to find out!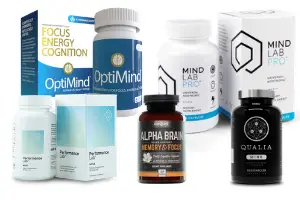 The 3 Best Brain Health Supplements
We've picked the top three nootropic stacks that are available to you right now for cognitive support.
Neuriva Plus vs Focus Factor – Overview
As we said, nootropics like Neuriva Plus and Focus Factor are designed to support your goals. They use vitamins, herbs, minerals, antioxidants, and other natural compounds that are known to support brain health.
Who are these supplements for?
For anyone, really. Whether you're a student, a CEO, a pro athlete, or just an active regular person, you could benefit from taking a nootropic supplement.
It can help you be more productive, and most importantly, a good brain supplement (aka, nootropic) will help protect your brain from damage and stress.
Neuriva Plus is extremely popular online. Produced by a veteran company Schiff Vitamins, it's marketed to help:
Support memory & focus
Enhance learning & accuracy
Improve reasoning
Focus Factor isn't too far behind in popularity either. The marketing material on its website says that it can boost your:
Memory
Word Recall
Mood
Cognition
If you were wondering, we don't currently rate either Neuriva or Focus Factor as one of the very best brain supplements on the market right now.
For that, you'll need to click here to check our top 3 list.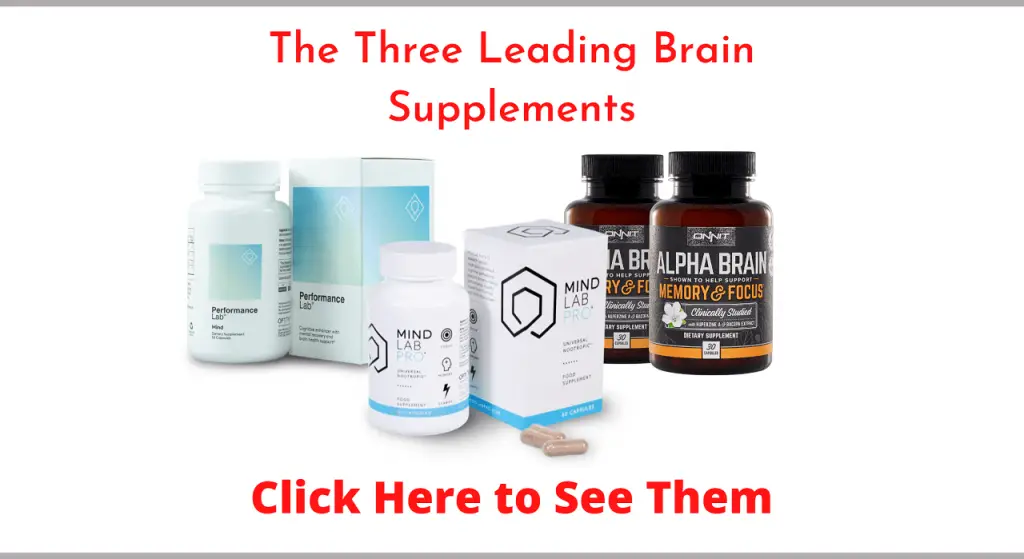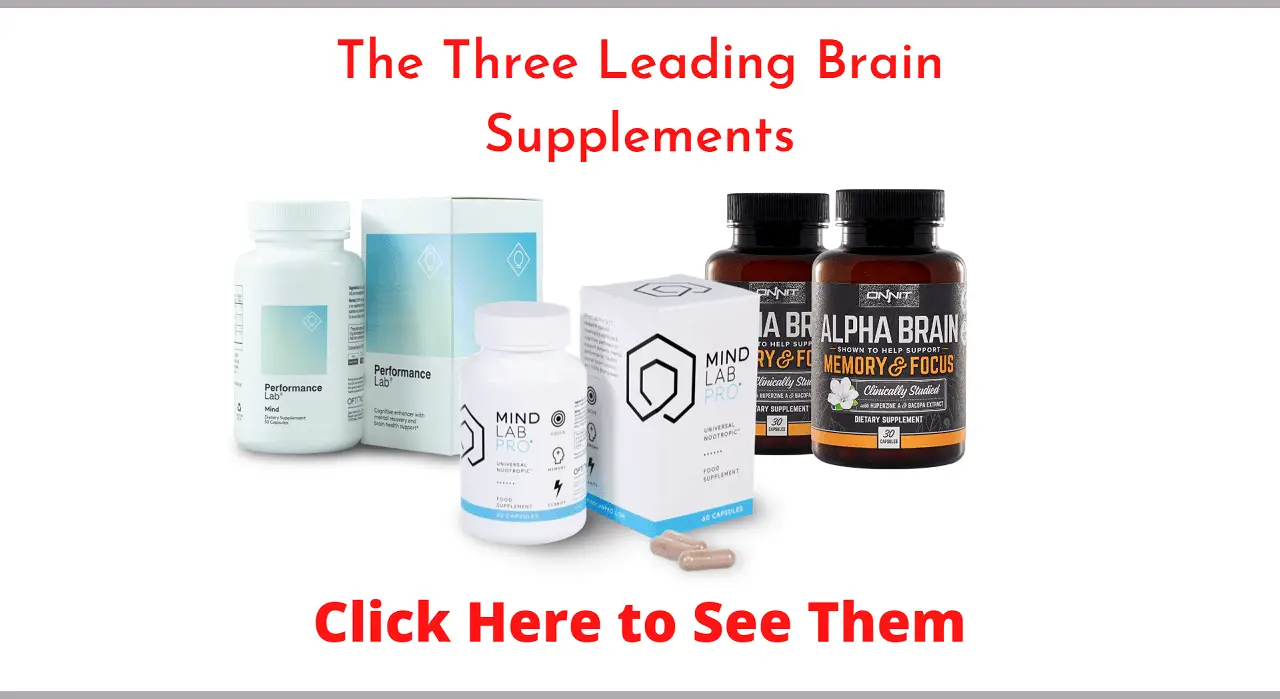 But between Neuriva and Focus Factor, which one is better?
Let's have a look at their ingredient profiles, and then we'll give you our view.
 – Both supplements are available on Amazon –
Get Prices: Neuriva Plus | Focus Factor
 The Ingredients
Whereas Neuriva Plus only uses 5 ingredients (3 of which are basic vitamins), Focus Factors has a whole host of vitamins, minerals, omega-3 fats, and a bunch of herbs in their concentrated forms.
Prevagen vs Neuriva Plus – Which is Better In 2022?
If you're wondering which is better: Neuriva vs Neuriva Plus, they are identical in every aspect except for B vitamins which are found in Neuriva Plus but not in the original Neuriva.
As for Focus Factor, many of its ingredients are hidden in a proprietary blend, which prevents us from knowing how much of each ingredient is inside.
There are a few common ingredients between Neuriva and Focus Factor, such as B vitamins, but the rest of their formulas are completely different.
See for yourself:
Neuriva Plus Review 2021 – Ingredients | Benefits | Side Effects
Neuriva Plus Key Ingredients
B Vitamins – If you're deficient in these vitamins, you'll notice some benefits. But most people get enough from their diets.
Coffee Fruit Extract – Rumors have it that this ingredient helps with focus and memory, however, there's not enough research to confirm this.
Phosphatidylserine – This is a great choice, it's the only ingredient with an FDA claim in regards to cognition and brain health.
Focus Factor Key Ingredients
Omega-3s – A basic yet fundamental nutrient for an optimized brain.
Bacopa Monnieri – It helps with memory, but you need to take it for at least 8 weeks to work.
Huperzine A –  This one is unsafe to take long-term, which means you need to cycle Focus Factor to avoid side effects. Ironically, this reduces the benefits of Bacopa which needs to be taken consistently long-term.
Ginkgo Biloba – A good old-school ingredient for memory.
Tyrosine – Tyrosine is one of our favorite brain nootropics for maintaining cognitive function under stress. It's potentially underdosed in Focus Factor, though.
Zinc – Another basic nutrient that helps support your body's needs.
Choline – A building block for your brain cell membranes, choline is known to play an important role in supporting brain health. However, we don't know how much choline is included in Focus Factor. Too much and it causes side effects, too little and it doesn't work.
It's worth mentioning that you can also buy Focus Factor gummies. The gummies version of Focus Factor are a bit different to Focus Factor capsules, in the sense that they have fewer ingredients but still contain a proprietary blend that masks its ingredient doses.
Focus Factor gummies obviously taste better – but are in our experience inferior to Focus Factor capsules.
Our Thoughts on the Ingredients in Neuriva Plus vs Focus Factor
Both of these brain supplements have their advantages and drawbacks. Neuriva Plus contains fewer ingredients and is less effective, but at least you can see the dosages of every ingredient.
Focus Factor, on the other hand, has a more comprehensive formula, but you can't assess many of its ingredients for safety, since their dosages are hidden.
On the whole, we don't think that either of these two supplements is spectacular. If we had to choose one, we'd go with Neuriva since it looks safer. But it's better to skip both supplements and find a better option.
Neuriva Plus vs Focus Factor Side Effects
The risk of getting side effects from Neuriva Plus is very low. The ingredients are mostly vitamins which you'll find in food, along with Coffee Fruit Extract and Phosphatidylserine which are generally seen as safe.
In terms of Focus Factor side effects, it's a different story. Focus Factor contains a huge amount of ingredients, which automatically increases the risk of negative interactions.
Plus, some of its ingredients have hidden doses on the label, preventing us from assessing them for potential side effects.
-See This Year's Top Rated Brain Health Supplements-
Neuriva Plus vs Focus Factor – Customer Reviews
Interested in seeing other people's Neuriva and Focus Factor reviews?
Neuriva Plus has over 1400 testimonials on Amazon. The reviews are positive for the most part, with an occasional report of some minor side effects, and in rare cases, insomnia as well.
Focus Factor is a bit less popular, though it boasts a similar score on Amazon. It's well-accepted by many of its customers.
One Focus Factor review said; "Tablets work but are hard to swallow. Kindly reduce the size and maybe for two to be taken at a go instead of one tablet." It's worth keeping in mind that it's questionable how many of these testimonials are legitimate – the same goes for Neuriva.
Neuriva Plus VS Focus Factor Price VS Value For Money?
Neuriva Plus will set you back by around $25 if buying on Amazon. Focus Factor, on the other hand, costs $29.96 for one bottle that will last you a month. While Focus Factor is also available to buy in Costco, Walmart, and Walgreens, you can only find Neuriva over at Walgreens and Walmart.
Overall neither one of these products is great value for money, even though Neuriva is cheaper.
Why? Because it lacks some core ingredients that would make it better at improving memory. And Focus Factor is potentially unsafe due to its proprietary blend.
Neuriva Plus vs Focus Factor Conclusion
So that concludes our Neuriva Plus vs Focus Factor comparison. Which one is best? Neither of them, if we're being honest! Both products have some major drawbacks.
For Neuriva, the biggest drawback is that it's missing many core ingredients. Although safe, Neuriva Plus is too weak to have an effect on your memory or cognitive function.
Focus Factor, on the other hand, has loads of ingredients, but some of their doses are either not effective, or not shown on the label at all.
Therefore, if you're wondering "does Focus Factor work?", some of its ingredients do, but others can't be assessed due to lack of transparency.
If you're curious to find out about the best brain supplements currently on the market, click on the image below to see our top 3 (we've picked them out of over 25 that we tested in the past year).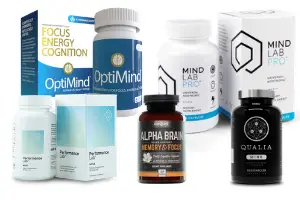 Neuriva Plus vs Focus Factor Related Posts