Focus Factor vs Prevagen: in this comparison, we'll go through their pros and cons in order to see which one is safer and more effective at improving your memory, mood, and cognitive function among others.
SUMMARY (UPDATED for 2021): While neither Focus Factor nor Prevagen makes it on our top 3 list, Focus Factor is the winner between the two. It has more ingredients that also happen to be better researched.
Prevagen, on the other hand, only has 2 basic ingredients, one is vitamin D which is underdosed, and the other is Apoaequorin which isn't proven to do anything! Don't be fooled though, Focus Factor is far from a perfect supplement itself – it contains a proprietary blend that prevents us from seeing the doses of ingredients in it.
-Click to See the Current Top Rated Brain Supplements-
Boost Your Mental Performance With Nootropics
Nootropics like Prevagen and Focus Factor are designed to boost brain function. Generally speaking, brain supplements like these two use different vitamins, minerals, herbs and other compounds that have been shown to improve mental performance.
Some products use better ingredients, and other products use ingredients that don't work at all. So you'll need to watch out for some things before buying one.
The good news is, when you find a high quality nootropic supplement, you can expect to see improvements in your mood and cognitive function. These supplements are designed to work for anyone, regardless if you're 50+, a stay at home parent, an athlete or simply a person who wants to feel better and think clearer.
Nootropic supplements work by optimizing different brain pathways, and by promoting long-range brain health. They can help with:
Memory
Focus
Productivity
Mental energy
How to Pick the Right Nootropic Supplement?
If you suffer from brain fog or lack of motivation to do things that you want, then taking a high-quality nootropic can make a big difference.
But as you're probably aware, picking the right supplement can be difficult. Especially with so many options available out there.
The first thing you should watch out for is a proprietary blend. This is when a manufacturer decides to hide the doses of certain ingredients on the label, putting them as one single value, so you only see the total dose of the blend.
Another thing to watch out for is ingredients that cause side effects. Below, you'll see our detailed breakdown of both Prevagen's and Focus Factor's ingredient profiles, and you'll see which ingredients are safe and which are not.
If you're wondering, we don't recommend Prevagen nor Focus Factor as the most effective nootropic supplements on the market right now. For that, you'll want to see our top 3 list.
But there can only be one winner between the two. In the following section of our Focus Factor vs Prevagen comparison, you'll see us analyze their ingredient profiles.
 – Both supplements are available on Amazon –
Get Prices: Prevagen | Focus Factor
Company Reputation
Focus Factor is a company that produces a supplement of the same name. Chances are you've heard of them before because they're quite popular. The nootropic Focus Factor has a catchy slogan, which says "feed your Einstein." But can Focus Factor really help bring out the genius in you? Or is it just good marketing? We'll find out in a minute!
Prevagen is produced by Quincy Bioscience. This biotechnology company is from Wisconsin, USA. Their website has a great "about" section where you can learn a bit more about their team and history behind this product. However, the design of the website is outdated and not very user-friendly in our opinion. In that regard, it's best to focus on its ingredient profile instead. This will tell us straight away if it works or not.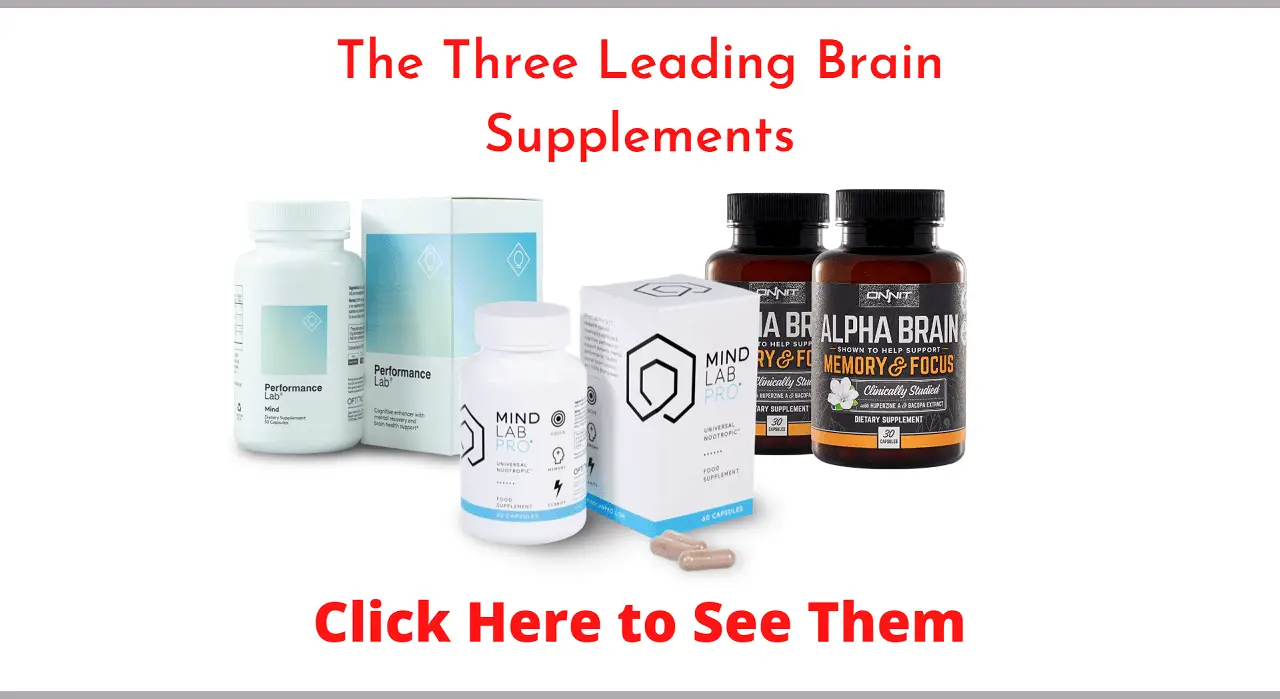 The Ingredients
Right off the bat you'll notice a stark difference between Focus Factor's and Prevagen's ingredient formulas.
Focus Factor boasts a range of ingredients – from basic to more advanced nootropics – while Prevagen only has two. But is more better? See for yourself:
Focus Factor Ingredients
The ingredient choice in Focus Factor is decent. The formula has a few basic ingredients that we want to see in any nootropic stack; including magnesium, vitamin B6, and choline.
It also has one of our favorite herbs for memory – Bacopa Monnieri.
But, if you're anything like us you might find the proprietary blend annoying. This means you can't see the dosages of each ingredient, and can't asses the ingredients for safety. On the bright side, there is a study that shows that Focus Factor might work better than a placebo, which is good, but we'll need more evidence to confirm that this is true.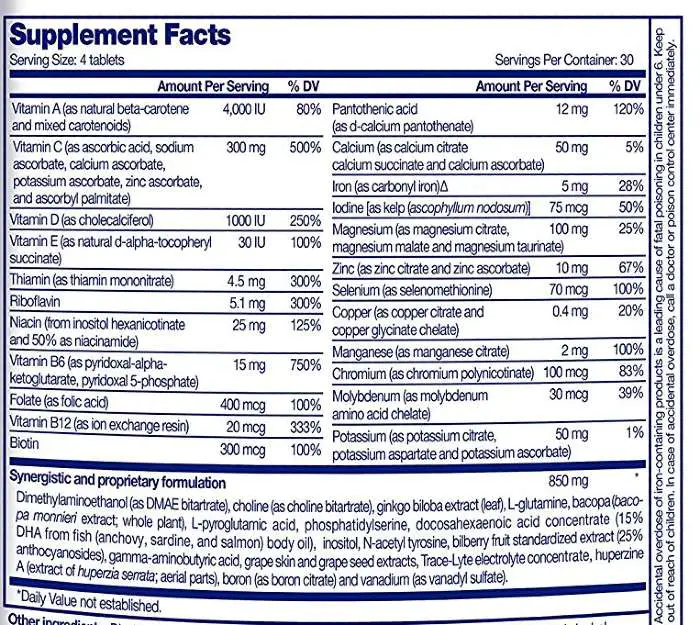 Key ingredients in Focus Factor:
Vitamin B6 – This vitamin helps you produce dopamine and serotonin, brain chemicals which boost your happiness, pleasure, motivation, and focus. [1]
Choline – Choline aids in building and repairing your brain cells, and promotes memory, cognition, and word recall. [2]
DHA – An omega-3 fatty acid that makes up a big chunk of your brain. It boosts neuron survival, enhances brain tissue plasticity, and promotes overall mental performance. You can't go wrong with this one; it's a great all-rounder. [3]
Bacopa Monnieri – An ancient herb that's best known to boost memory. But it also boosts your mood by upregulating serotonin and protecting brain cells from damage. Bacoside A, a compound in Bacopa, is a potent brain antioxidant. Bacopa takes a few weeks to start working, but once it does, people are usually impressed with the results.
Ginkgo Biloba – This ingredient comes from the leaves of an ancient tree. Ginkgo works by boosting blood supply to your brain, leading to improved mental clarity and reduced brain fog. [4]
Huperzine A – Huperzine A is known to help with certain things cognition-wise. However, it's a risky ingredient to take long-term as it's known to lead to side effects. It's not one of our favorite ingredients. More on this below. [5]
Tyrosine – this is a building block for brain chemicals like dopamine. Supplementing tyrosine will help you maintain focus and ability to think clearly during intense stress. E.g. when you're giving a presentation in front of 100 people – tyrosine helps to prevent your brain from going 'blank'. [6]
Phosphatidylserine – This is a phospholipid that your brain needs to make neuron membranes. PS helps with thinking, memory, and overall mental function. [7]
Prevagen Ingredients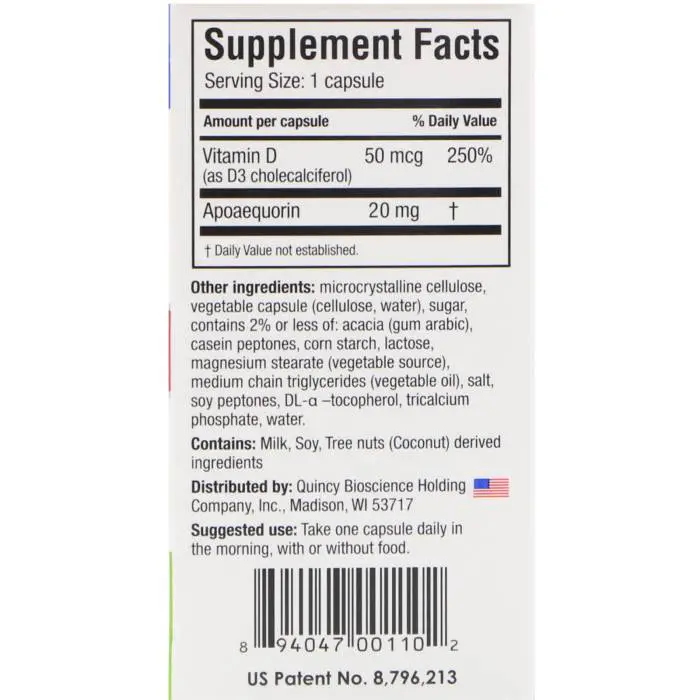 Prevagen uses 2 ingredients: vitamin D and Apoaequorin. Let's start with vitamin D…
This is a type of hormone that supports your health in general. It helps with everything from supporting our hormones to strengthening the immune system. Vitamin D can also help your brain work better by relieving depression. [8] All in all, it's a good basic ingredient.
But the main star of Prevagen is another ingredient, called Apoaequorin. 
Apoaequorin is sourced from glowing jellyfish. It's a protein that can apparently boost your memory and sleep. At least that's what the marketing material on Prevagen's website claims.
But what does the science say? Well, it doesn't look too promising. Only one reputable study has been done on Apoaequorin and it didn't show any major improvements in people's memory or other mental functions. Safe to say Apoaequorin is a questionable ingredient at best.
The problem is that the company that makes Prevagen made a lot of huge claims about Apoaequorin. And because of that, they were sued by The Federal Trade Commission in the past. I'm a bit concerned with this!
To conclude this round: All in all, Prevagen's formula only has one ingredient that's been proven to support brain health – vitamin D. The same nutrient that you get from the sun or cheap vitamin D supplements. Focus Factor has a superior formula, but it's let down by the fact that you can't see the ingredient doses in a proprietary blend – so you don't really know if it works or not.
Click to See This Year's Top Rated
>Top 3 Brain Health Supplements<
Dosages & Servings
Focus Factor instructions say to take 4 tablets daily with food. You can take up to 8 tablets safely per day. If you want, you can split this into even doses throughout the day. Some people won't like having to gulp so many pills though!
Prevagen dose is 1 tablet per day without food. Each serving of Prevagen has 10mg of Apoaequorin. I can't tell you if this is the right dosage as there isn't much human evidence on Apoaequorin in general.
Side Effects
Which is a safer option – Prevagen vs Focus Factor? Here's our view on the matter…
Focus Factor should be safe from what little we can see on the label. We can't tell exactly how safe it is because some of the ingredients are masked in a proprietary blend.  Huperzine A might cause headaches in sensitive users, and it's not the safest long-term choice. Always talk with your doctor if you have any medical questions regarding any supplement.
Prevagen is a bit different story. Since there's not much research behind its main ingredient, we don't know how safe it really is. Based on the current research though, it seems that Apoaequorin doesn't do much at all – good or bad.
Customer Reviews
Focus Factor reviews from customers are plenty, boasting an average rating of 4.3 out of 5 stars. While some users complained about the servings, most customers said how Focus Factor worked great for improving their memory, focus, and mood, amongst other things.
Prevagen also has plenty of reviews online. The average rating is 3.5 out of 5 stars. With Prevagen, the reviews are a mixed bag of everything. One person said they "felt like it worked," while another person said they were happy with what they got for their money. I've also seen a couple of one-star reviews saying the product didn't work at all.
Price and Value For Money
Here we compare Focus Factor and Prevagen's price.
Focus Factor costs $29.96 per bottle on Amazon. When you consider its benefits, the price of Focus Factor seems like a decent value for money, although it's not as good as some other nootropics we've seen.
Prevagen costs about $39.99 for 30 servings. It's more expensive than the Focus Factor, and it doesn't have as many great ingredients. For this reason, we don't feel like Prevagen can compete for the title of this round's winner.
Where to Buy?
You can buy Focus Factor directly on Amazon.com. Focus Factor is also available over at Costco, Walgreens, Walmart and any other big supplement store in America. It ships worldwide including to the UK, Australia, Canada, India, and South Africa.
You can also buy Prevagen on Amazon.com. Much like its competitor, Prevagen is available to buy at Costco, Walmart, Walgreens, and other big retailers in the USA. Prevagen also ships outside of the U.S., including to the UK, Australia, India, and South Africa. However, it's not approved for sale in Canada.
Focus Factor vs Prevagen Conclusion
That brings us to the final part of this Focus Factor vs Prevagen comparison.
So, which is better: Focus Factor or Prevagen? Based on our research and experience, the winner is Focus Factor. It has an ingredient formula that's more effective than Prevagen's, along with better customer experiences and online reviews.
The only major downside of Focus Factor is that you can't see the ingredient doses as they're hidden within a proprietary blend – this makes us unable to assess how safe or effective it is.
Prevagen only has one ingredient that can be considered a nootropic: vitamin D. The other ingredient, Apoaequorin, isn't proven by research to work. Prevagen also costs more than Focus Factor, which we don't feel is justified in any way.
To summarize, here are the key things you need to know about Prevagen vs Focus Factor:
Focus Factor Key Points:
Uses good nootropics – including fish oil, choline, Bacopa Monnieri, Phosphatidylserine, and more
User reviews are decent
It uses a proprietary blend (the biggest con for us!)
Huperzine A might not be safe to supplement long-term
Relatively affordable
You can buy Focus Factor by clicking here
Prevagen Key Points:
Seems safe
Uses vitamin D which will support your testosterone and mental health (if you're deficient in vitamin D)
Only uses two ingredients: besides vitamin D, it has Apoaequorin which doesn't work in humans
Easy & simple to take, 1 capsule per day
Higher price ($40 for 30 servings)
You can buy Prevagen by clicking here
---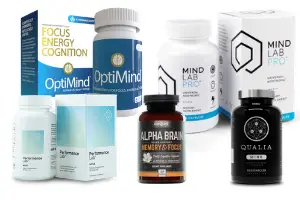 The 3 Best Brain Health Supplements
We've picked the top three nootropic stacks that are available to you right now for cognitive support.
---
Related Posts:
*Individual results may vary. Please speak with your doctor or physician before undertaking any new weight reduction, supplement, or exercise regime.
**Disclaimer:  The information on this site has not been evaluated by the FDA. The products on this page are not intended to diagnose, treat, cure, or prevent any disease. Results in description and Testimonials may not be typical results, and user experiences might vary. We may earn a commission if you click the links and buy the products featured on this page.
Scientific References
Guilarte TR. Effect of vitamin B-6 nutrition on the levels of dopamine, dopamine metabolites, dopa decarboxylase activity, tyrosine, and GABA in the developing rat corpus striatum. Neurochem Res. 1989 Jun;14(6):571-8. doi: 10.1007/BF00964920. PMID: 2761676.
Derbyshire E, Obeid R. Choline, Neurological Development and Brain Function: A Systematic Review Focusing on the First 1000 Days. Nutrients. 2020;12(6):1731. Published 2020 Jun 10. doi:10.3390/nu12061731
Horrocks LA, Yeo YK. Health benefits of docosahexaenoic acid (DHA). Pharmacol Res. 1999 Sep;40(3):211-25. doi: 10.1006/phrs.1999.0495. PMID: 10479465.
Brondino N, De Silvestri A, Re S, et al. A Systematic Review and Meta-Analysis of Ginkgo biloba in Neuropsychiatric Disorders: From Ancient Tradition to Modern-Day. Evid Based Complement Alternat Med. 2013;2013:915691. doi:10.1155/2013/915691
https://www.webmd.com/vitamins/ai/ingredientmono-764/huperzine-a
Bloemendaal M, Froböse MI, Wegman J, et al. Neuro-Cognitive Effects of Acute Tyrosine Administration on Reactive and Proactive Response Inhibition in Healthy Older Adults. eNeuro. 2018;5(2):ENEURO.0035-17.2018. Published 2018 Apr 30. doi:10.1523/ENEURO.0035-17.2018
Glade MJ, Smith K. Phosphatidylserine and the human brain. Nutrition. 2015 Jun;31(6):781-6. doi: 10.1016/j.nut.2014.10.014. Epub 2014 Nov 4. PMID: 25933483.
Anjum I, Jaffery SS, Fayyaz M, Samoo Z, Anjum S. The Role of Vitamin D in Brain Health: A Mini Literature Review. Cureus. 2018;10(7):e2960. Published 2018 Jul 10. doi:10.7759/cureus.2960