This is our Drishti Arogya Multivitamin Review. A supplement designed to help you achieve daily mental, hormonal and nutritional balance.
We were naturally keen to do a thorough inspection of this product as it's just recently been launched together with other Drishti Supplements.
Arogya isn't your typical multivitamin, because it also contains a wide range of herbs that support our immunity, brain energy levels, and daily wellness.
Here are the claimed benefits of Arogya Multivitamin:
Feel calmer and more focused
Improve your daily well being
Enhance physical performance and energy levels
While we tend to only focus on nootropic supplements (aka brain enhancers) at Valentino's Naturals.
A good multivitamin can provide you with the nutrients that are essential for an optimized brain. For this reason, multivitamins are the foundation that many neuro hackers build their stacks upon.
[alert type="info" icon-size="normal"]And even if you eat your veggies, don't smoke or drink, and avoid junk food. You're still at risk of not getting optimal amounts of nutrients due to
soil depletion
and modern farming methods. Taking a quality multivitamin can help fill in the gaps and help you feel your best in the body and mind. [/alert]
So, does Drishti Arogya multivitamin hold up to scrutiny? How good is it compared to other products in this category?
Let's have a closer look at the ingredients and overall quality of the formula, and then we'll give you our view.
Click Here to Buy Arogya Multivitamin
Pros and Cons
If you want to skip straight to the results part, I've found Arogya Multivitamin to be a clean and effective supplement.
As I've said in the beginning, it has an advanced formula with herbs and other natural compounds that will support your wellness.
One downside is that you can only get it in the USA. And can't buy it anywhere else but on the official website.
But when it comes to the quality, Arogya delivers everything you'd expect from a premium multivitamin, and then some.
It will boost your mental focus, improve energy, ease digestion, and strengthen the immune system.
While it's not a miracle pill, it keeps the promises it says on the label, which is good enough for me!
[alert type="success" icon-size="hide-icon"]
The Good
Top notch ingredients
Advanced formula with herbal complexes that support both the body and the mind
Excellent value for money
Fast response time and great customer care
[/alert] [alert type="danger" icon-size="hide-icon"]
The Bad drishti arogya multivitamin review
You can only buy it on the official website
Only available for the U.S. residents
[/alert]
Arogya is Available at Drishtisupplements.com
Benefits of drishti arogya multivitamin review
You probably know what a multivitamin does. Chances are you take one every day too.
The issue with multivitamins, however, is that they are often low quality. Be it due to underdosed ingredients or simply low standards of manufacturing. None of which can be said for Arogya.
The ingredient formula is cGMP certified and adheres to the highest standards of production. The vegetarian capsules deliver high-quality ingredients which Yogis use to enhance their daily wellness and meditation practice.
But here's what I like the most about the Arogya multivitamin: the producers went the extra mile to provide you with not only basic vitamins and minerals… but also herbs and natural compounds that will further strengthen your body.
You can find a detailed list of benefits on the Drishti Arogya's official website, but here's what the supplement essentially offers:
Improve daily energy levels
Enhance calm and relieve brain fog
Bolster the immune system
Aid with food digestion
Improve recovery and repair
And if you take nootropic supplements, then you'll want to have a quality multivitamin in your stack. Some nootropics don't work because the body doesn't have the building blocks (aka, vitamins and minerals) to utilize them.
Who Makes Arogya Multivitamin?
PFX Labs, a sports supplements company originally started in the UK but now operating from around the world. When I started researching the company for this review, I was impressed with what I saw.
I was a little disappointed to see that you can't buy their products if you're outside of the USA. But overall, here's what stood out to me about the company:
A quality business model – You won't see PFX Labs' product sold on third party sites. Instead, they sell it directly from their site. This not only saves the cost for you the customer, but also ensures you get the latest batch of the product directly from its makers.
Ingredient quality – To be able to compete with veteran supplement companies, guys at PFX Labs had to go the extra mile to create products that stand out. Both in terms of quality and safety. Their products are formulated in cGMP certified facilities as well.
Customer service – Despite not having the middle man, PFX Labs are in my eyes doing a great job at providing fast and quality service to its customers. They are available 24/7, plus you get free and fast shipping on all their products.
What this shows to me, is that the company really believes in the supplements they're selling, including the Drishti line.
I've also reviewed their Drishti Ananda CBD Oil if you want to check that out as well.
The Ingredients
Alright, it's time to get serious and take a look at the science.
The reason why Arogya Multivitamin stands out is because of its ingredients. Not only the vitamins and minerals, but also premium herbal complexes.
They all come in highly effective and safe doses, and most importantly, are backed by evidence.
Here's a look at the label: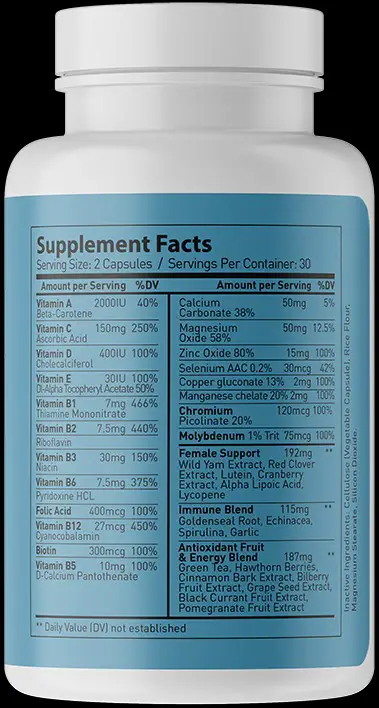 The ingredients that stand out in Arogya to me are the:
B Vitamins
Vitamin D
Magnesium
Zinc
Chromium
Health Support Blend
Immune Support Blend
Antioxidant Fruit and Energy Blend
Below I'll explain how they can help you and why they are important.
B Vitamins
B Vitamins are  building blocks for your body and mind. They have a direct impact on your mood, cell metabolism, and energy levels.
As they're needed for the synthesis of serotonin and other important brain chemicals, a lack of any of these nutrients in your diet can lead to symptoms of anxiety and depression. (1)
Vitamin D
Vitamin D is an all-rounder nutrient. What this means is that it affects pretty much every area of your health – including bone strength, testosterone & estrogen balance, skin, hair, mood, energy levels, and cognitive clarity.
If there's one nutrient you don't want to be even slightly deficient in, it's vitamin D. Unfortunately, many of us are, ironically. Due to not going in the sun often enough. (2)
Magnesium – drishti arogya multivitamin review
One of the most abundant minerals in our bodies. Magnesium will help you relax, unwind, and at the same time, energize your body and promote healthy mood balance.
It's great for workouts too, as it can reduce muscle cramps and delay fatigue. (3)
Zinc
As a trace element, zinc supports your immune system, mood, nerve health, and many other vital bodily functions. (4)
Chromium
Many people don't know about chromium, yet this mineral is critical for blood sugar regulation – helping you to maintain a healthy weight along with reducing food cravings.
Arogya ensures this mineral gets properly absorbed in your body by delivering it in a highly bioavailable chromium picolinate form. (5)
Health Support Blend
This blend is aimed at supporting your body's antioxidant defenses, as well as hormonal balance.
The blend contains:
Lutein –  Best known for protecting the eyes from damaging blue rays, as well as macular degeneration.
Lycopene – A well known anti-cancer ingredient naturally found in tomatoes. It protects from sun exposure and improves cardiovascular health too.
Urtica Dioica – Or Stinging Nettle reduces inflammation in your body and prevents bloating. Great for nasal allergies as well.
Saw Palmetto – This is a very potent natural hormone regulator. Helps your body produce more testosterone if you're a male, and have more youthful estrogen levels if you're a female. Saw Palmetto also fights urinary tract infections and reduces hair loss.
Immune Boosting Blend 
As the name suggests, this blend helps you fight off pathogens and harmful bacteria. It also allows you to maintain a strong immune system when the flu season hits.
Containing natural microbe killers such as echinacea and garlic, as well as immune-boosting spirulina and Goldenseal.
Antioxidant Fruit and Energy Blend 
As you may know, oxidative stress is thought to be one of the main culprits of aging. Oxidative stress is caused by free radicals, which are small but unstable molecules that do a lot of damage in your body, and can lead to disease.
The antioxidant blend in Arogya fights these negative effects. Some of the following ingredients act as electron donors to free radicals, neutralizing their damage in the process.
Key ingredients include:
Green Tea – Full of natural polyphenols that fight disease, combat fatigue, and improve daily wellness and energy levels. It also speeds up your metabolism and helps with fat loss. 
Hawthorn Berries – Improves digestion and hair loss, along with reducing cell damage in your body.
Cinnamon Bark Extract – Stabilizes blood sugar levels, reduces bloating, and promotes overall health.
Grape Seed Extract – Contains high amounts of vitamin E. An antioxidant that protects your brain cells from degeneration and is even more powerful than vitamin C. 
How to Take (Dosage Instructions)
The dosage directions for Drishti Arogya multivitamin are 2 capsules per day with a meal.
You can also take capsules separately if you prefer.
Side Effects of drishti arogya multivitamin review
As I was doing this Drishti Arogya Multivitamin review, one thing that struck me about this supplement is its safety.
The dosages are light (but not too light) enough to not cause any side effects, and the ingredients are also all backed by clinical evidence.
For example, zinc is dosed at 15mg, which is fantastic. This is the perfect daily amount for this mineral, whereas some multivitamins really push the safe limit with this ingredient and in turn, cause negative side effects.
Click to Visit Drishti Supplements
Price & Value For Money
One bottle of Drishti Arogya Multivitamin comes with 60 capsules. This means it will last you a full month when you take two per day.
The price is $26.99 for one bottle, which I find to be an excellent value for money.
The quality of this supplement justifies it without question. Plus, you also get free fast shipping on all orders in the USA. They don't ship anywhere else though, which is a bit disappointing!
Where to Buy Arogya Multivitamin?
As I've said, you can only buy Drishti Arogya Multivitamin on the official website. Follow this link to get the best deals.
My Verdict: Drishti Arogya Multivitamin Review
So there you have it – that was my full Drishti Arogya Multivitamin review.
On the whole, it's an impressive supplement. The quality, safety, customer service, and effectiveness… it passed my tests with flying colors.
To quickly recap it for you, here's what I like the most about Arogya Multivitamin:
Great quality – The ingredients are all well studied, highly effective, and most importantly, safe
Fast and excellent customer service – The company behind Arogya is new, but it's already making waves in the industry
No middle man – You get the latest product directly from the manufacturer, at a cheaper price too
Impressive benefits – It's a supplement not just for Yogis, but anyone wanting to expand their potential and enhance daily wellness
I do have issues that you can only get it if you're from the USA. Though if the recent success of the company is anything to go by, it could only be a matter of time before they go global.
-Visit Drishti Supplements Now-
More Reviews