Gaia Herbs Stress Response is an adrenal-nootropic formula that supports your mental well-being and resilience to stress.
Gaia Herbs Stress Response comes in 30 capsule bottles, costing $28.32 for a one-month supply on Amazon. The best thing about this product is that it's all-natural. It uses herbs that will help you with:
Energy, both mental and physical
Stress resilience
Anxiety
In this Gaia Herbs Stress Response review, we'll look at its ingredients to see if they work and whether they come with any side effects.
Pros and Cons
Whether you suffer from adrenal fatigue or anxiety, Gaia Herbs Stress Response was designed to help with both. The name of the product really says it all; it's one of the better stress-relieving supplements we've reviewed recently.
Here's what's good and what's bad about Gaia Herbs Stress Response:
[alert type="success" icon-size="hide-icon"]
Pros
Premium ingredients
Supports and nourishes your adrenals
Promotes a calm mind state
Ingredients are effective, safe, and tolerable
[/alert] [alert type="danger" icon-size="hide-icon"]
Cons
Some users prefer a formula that's free of proprietary blends
[/alert]
---
Gaia Herbs Stress Response is available on Amazon.com
– Click to Buy on Amazon Now –
---
Benefits
Daily stress and anxiety can take a toll on your adrenal glands and mental health. Gaia Herbs Stress Response is meant to help with these things. Specifically, it claims to promote:
Stress reduction – cope better with the daily stresses and feel more resilient to pressures of life.
Adrenal support – nourish your worn-out adrenal glands for optimal hormone production.
Energy – naturally feel more lively and energetic without the need for stimulants.
Sounds promising. But is it really all it's purported to be? Make sure to read on to see what we've found in this Gaia Herbs Stress Response review.
About the Company
Gaia is a company based in North Carolina, USA. They're a huge company trusted by users from all around the world, but they started out as a small farm growing natural herbs. The company mainly produces herbal supplements that use ingredients grown in nature. After all, the name Gaia originally comes from Greek mythology – it was the name for the ancestral mother of all life.
Want to know how Gaia Herbs Stress Response fares against Gaia's most popular Adrenal Health formula? Find out in our Gaia Stress Response vs Adrenal Health Review.
The Ingredients
[alert type="info" icon-size="hide-icon"]
Gaia Herbs Stress Response Ingredients
Siberian Rhodiola Root Extract, 120mg (6mg rosavins per serving)
Holy Basil Leaf Extract, 32mg (3.86mg eugenols)
Organic Oats Milky Seed Extract
Organic Holy Basil Leaf
Schisandra berry
Ashwagandha root extract
[/alert]
Gaia Herbs Stress response boasts a clean and potent ingredient profile.
Aside from a small proprietary blend that some users might find inconvenient, the formula is fantastic and will promote your mental well-being, safely and naturally.
See for yourself: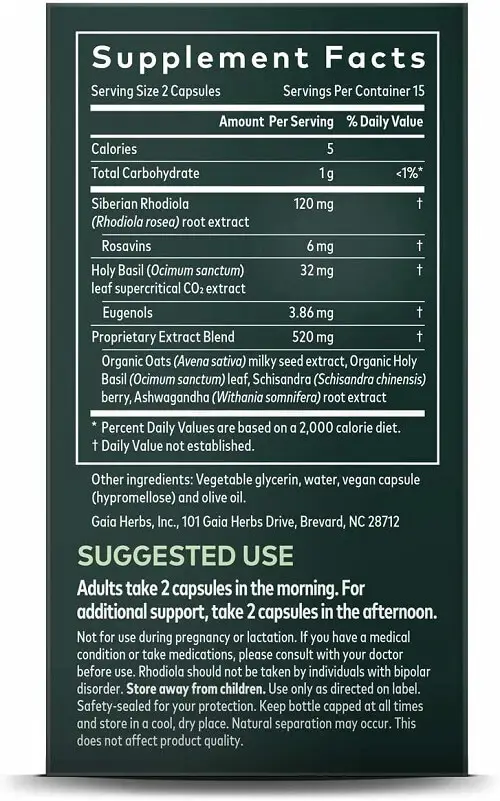 Siberian Rhodiola Rosea
Rhodiola Rosea is an adaptogen. Which means it helps your body deal better with stress. It's one of the most popular anti-stress remedies in traditional Ayurvedic cure.
However, Rhodiola's benefits go beyond just stress reduction. While some supplements reduce your stress and anxiety at the cost of making you feel drowsy. Gaia Herb's Rhodiola does the opposite; it calms your anxiety and improves resistance to fatigue at the same time. (3)
Thus, Rhodiola's key benefits include:
Adrenal support
Anxiety reduction & stress management
Energy support
Anti-fatigue
Mood
But Rhodiola doesn't increase your energy as caffeine does. It's not a stimulant, so it won't cause you to crash a couple of hours after taking it. Instead, it gradually builds up in your body over the course of days and weeks, and helps to deliver a sustained form of energy. Both mental and physical.
Additionally, Rhodiola supports your mood. It's an MAOI inhibitor, meaning it helps you to have higher dopamine levels in your brain. This helps with anxiety, stress, confidence, and motivation. (4)
Holy Basil Leaf
Holy Basil is a herb with soothing properties. It's an adaptogen just like Rhodiola, but it has slightly different effects. It's more calming and supports your general health, too. (5)
Specifically, Holy Basil promotes:
Cell protection – acts like an antioxidant
Stress reduction – blocks excess cortisol
Liver protection – evidence shows that Holy Basil can protect your liver from damage. It works particularly well when paired with Milk thistle (Silymarin). (1)
Not only does Holy Basil reduces stress, but it also helps with anxiety. Users report that Holy Basil is specifically effective at relieving social anxiety. The research currently supports some of these claims; one study showed that Holy Basil reduced anxiety and improved the social behavior of study participants. (2)
Holy Basil is also used for enhancing libido. Some studies show that it can help to balance your hormones; specifically, boosting testosterone in men. The evidence is still early though, so we'll wait for more studies to confirm its test boosting effect.
Proprietary Extract Blend
This is a mixture of several natural ingredients, including Holy Basil which we're already covered. Let's look at what these ingredients will do for you:
Organic oats milky seed extract – users love it because it helps them to reduce that feeling of being rundown from daily stress, along with promoting mental wellness.
Schisandra berry – reduces anxiety and promotes feelings of well-being. (7)
Ashwagandha – a popular adaptogen that is backed by science to work for anxiety, stress, libido, and fatigue. What's more, ashwagandha can support your active lifestyle by optimizing hormones and increasing your energy levels. (6)
---
Gaia Herbs Stress Response is available on Amazon.com
---
How to Take (Dosage)
The best dosage for Gaia Herbs Stress Response is 2 capsules in the morning. If you're feeling particularly stressed or anxious, you can take 2 more capsules later in the day for a more pronounced effect.
Side Effects of Gaia Herbs Stress Response
Gaia Herbs Stress Response is a safe supplement, and shouldn't cause any side effects. The ingredients such as Rhodiola and Holy Basil are herbs that have been used by people for thousands of years. Plus, they have science proving they're safe.
That being said, Ashwagandha is one ingredient to look out for if you have an autoimmune condition. This is because Ashwagandha strengthens your immune system, which is what people with autoimmune conditions certainly don't want.
Also, do not take Schisandra while pregnant. If you have any medical questions, be sure to talk to your doctor before taking any supplements.
Customer Reviews
So what do Gaia Stress Response reviews on the internet say? Are they positive? Do people complain about any issues with this particular supplement?
As it turns out, Gaia Herbs Stress Response is well-accepted by most users.  But just like with almost any product, there are both positive and negative reviews. Some users say how they felt calmer and less anxious when taking Gaia Herbs Stress Response, others said they weren't happy with the effects.
One person mentioned how Gaia Herbs Stress Response helped calm their anxiety, and it didn't make them drowsy or "super mellow."
From what we've seen, this product appears to have a gentle and soothing effect on most users. If you wish, you can see more Gaia Herbs Stress Response customer reviews here.
Price
A whole month supply of Gaia Herbs Stress response will cost you around $28.32 on Amazon. That's 21% off from the regular price which is $35.99.
Where to Buy Gaia Herbs Stress Response?
Gaia Herbs is available both on the official website as well as 3rd party sites like Amazon.com.
Is Gaia Herbs Stress Response Good Value For Money?
We feel it is. Gaia has always been known as a premium brand with high-quality supplements, and their product "Stress Response" is no exception. From the researched ingredients to a clean and stylish packaging, Gaia Herbs Stress response exudes quality. And most importantly, it works.
Conclusion to Gaia Herbs Stress Response Review
So there you have it, this was our detailed Gaia Herbs Stress Response review.
To quickly summarize, here are some key points to remember about this product:
Herbal formula with ingredients that have been used for hundreds or thousands of years, and have clinical studies backing their safety.
Supports relaxation without making you feeling drowsy or tired
Calms nerves and is great for people with anxiety
Ashwagandha, Schisandra, and Rhodiola boost your mental energy and nourish your adrenals
Safe doses
Considering the quality of Gaia Herbs Stress Response, the price seems fair, and many users are happy with the product.
If you'd like to check Gaia Herbs Stress Response on Amazon.com, you can do so by clicking on the button below.
*Individual results may vary. Please speak with your doctor or physician before undertaking any new weight reduction, supplement, or exercise regime.
**Disclaimer:  The information on this site has not been evaluated by the FDA. The products on this page are not intended to diagnose, treat, cure, or prevent any disease. Results in description and Testimonials may not be typical results, and user experiences might vary. We may earn a commission if you click the links and buy the products featured on this page.