Neuro Peak vs Neuro Clarity: which one takes the win? These two brain supplements (aka, nootropics) have been around for what seems forever. Back in the day, they were very popular and pretty much the only options available at that time.
Today though, nootropic formulas have evolved and become much more complex. Which makes choosing the best brain supplements a tough task!
Despite this, Neuro Peak and Neuro Clarity have both remained quite popular. But why is this the case? Can their formulas really keep up with the current market leaders?
Both products claim to help you with focus, memory, and cognitive function – basically, helping you on your journey through life.
To find out if these marketing claims are true, we'll dive deeper and start looking at their ingredient formulas. This will tell us what kind of benefits you can expect from these two nootropics, and whether they're safe to use or not.
Neuro Peak vs Neuro Clarity – The Basics
Neuro Peak Overview
Neuro Peak is made by an old-school nootropic supplement company Zhou Nutrition. Containing 30 capsules per bottle, it's claimed to help improve your:
Focus and mental clarity
Memory
Now, marketing claims are always good to see. But they don't tell us how good the product actually is. They're like a teaser for a movie. The actual movie in this case are the ingredients. Watching the ingredients is like watching a movie – if they suck, we'll turn around and won't look back at the product.
So, before we check the ingredients of Neuro Peak, let's see what its competitor, Neuro Clarity, offers.
Neuro Clarity Overview
Neuro Clarity is produced by Nutrition Essentials. You're supposed to take 2 capsules of Neuro Clarity every day. According to the producers, doing so will help you:
Focus better
Have more clarity
Experience improved memory
Neuro Clarity is specifically marketed as a supplement that will support your focus and energy without causing energy crashes (like you'd experience with caffeine). It's also claimed to relieve anxiety and promote a calm mind.
Sounds great! Onto the ingredients now, to see if they can live up to the claims.
---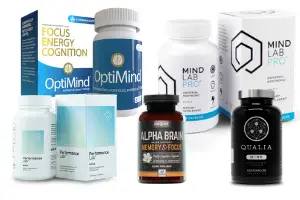 The 3 Best Brain Health Supplements
We've picked the top three leading nootropic stacks on offer right now to support your goals.
---
The Ingredients
Neuro Peak uses 6 ingredients, whereas Neuro Clarity uses 9. The good news is, both products are natural. However, there are a couple of downsides to both.
While Neuro Peak is missing a few core nootropics, Neuro Clarity contains a number of unproven and potentially unsafe ingredients. Let's take a closer look:
Neuro Peak Ingredients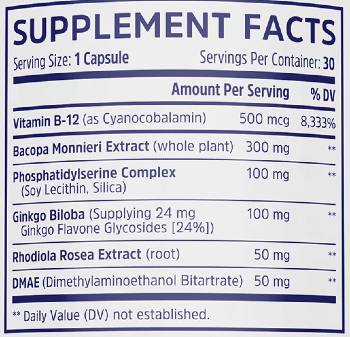 Key ingredients in Neuro Peak include:
Bacopa Monnieri – Great for memory and word recall, but you need to take it for weeks to notice any effects.
Phosphatidylserine – This is a fat that's found in your brain cells, it helps them communicate better. Another great inclusion for sure!
Ginkgo Biloba – This ingredient is best known for boosting blood flow to your brain.
Rhodiola Rosea – Great for stress.
DMAE – We don't currently rate this one as one of the very best nootropic ingredients. We'd much rather see Lion's Mane Mushroom or Citicoline included here – both are among the very best brain health ingredients currently available.
Neuro Clarity Ingredients
Key ingredients in Neuro Clarity include:
St. John's Wort – A natural anti-depressant, a risky one at that! It's known to interact with loads of medications. If you are on any, be sure to talk to your doctor before taking this one!
L-Glutamine – This ingredient has no nootropic qualities, even at high doses. It's a pointless filler ingredient here.
Phosphatidylserine Complex – This is PS derived from soy. Although still beneficial, we prefer the sunflower lecithin-derived version.
NAC – This one can help boost antioxidant activity in your body, protecting your cells from damage. It's a solid inclusion!
Kava Kava – Kava is an anxiolytic, which means it helps you with anxiety and stress. But it's also known to put a heavy strain on the liver.
Neem – This is an odd ingredient to see in a nootropic supplement. It helps with eye health, gut health, and it's often used for treating intestinal worms. It's a disappointing choice overall.
[alert type="info" icon-size="hide-icon"]
Our Thoughts on the Ingredients in Neuro Peak vs Neuro Clarity
Without a doubt, Neuro Peak is a superior supplement. The ingredients are better and safer. Neuro Clarity contains a few unproved and odd ingredients, including the filler ingredient L-Glutamine, along with St. John's Wort which can cause side effects.
But Neuro Peak is not without its downsides either. Although its better than Neuro Clarity, it's far from the best brain supplement we've seen. It misses a number of key ingredients that would make this formula much more effective at boosting cognitive function and mood.
[/alert]
-Click to See the Current Top Rated Brain Supplements-
Side Effects
Neuro Peak is a safe supplement for the most part. We can see the doses of each ingredient, which makes it easy to asses them for safety. You shouldn't experience any serious side effects from using it.
By contrast, Neuro Clarity includes a few questionable ingredients. St. John's Wort is known to interact with numerous medications and cause a wide range of side effects. Including nausea, mood issues, skin rashes, and even blindness in extreme cases.
Price and Value For Money?
One month's worth of Neuro Peak will cost you $20. It's a cheap product – if you aren't looking for anything special, then it could be a decent choice. But is it the best value brain supplement we've seen? Definitely not!
Depending on where you buy it, Neuro Clarity will cost you around $16. Although cheap, it's still not the best value for money. Because any money invested in a product that doesn't work, or worse, causes side effects, is a bad investment!
RELATED: The Three Best Brain Health Supplements on the Market
Conclusion
Overall, we're pretty disappointed with both products. It looks like their age has started to catch up with them.
Neuro Peak is decent I guess, but it's missing some important ingredients that would make it much, much more effective. For example, Lion's Mane Mushroom which is known to boost nerve growth and 'preserve' the aging brain. And Citicoline for increased brain energy.
Neuro Clarity, on the other hand, doesn't just lack the important ingredients, but also has a few risky ones included! For this reason, we don't feel like it lives up to the hype it's been getting.
Right now, there are much better brain supplements available – these two just can't keep up with them at the moment. Both Neuro Peak and Neuro Clarity will have to revise their formulas if they want to be back at the top of the pack. Until then, we recommend checking for other options!
If you're curious to find out which are the best brain supplements currently on the market, click on the image below to see our top 3 (we've picked them out of over 25 that we tested).
---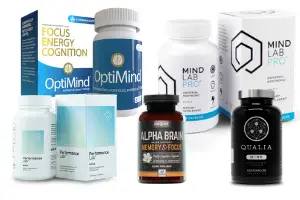 The 3 Best Brain Health Supplements
We've picked the top three leading nootropic stacks on offer right now to support your goals.
---