What is Nootropic Food? Main Effects of Nutrients on Brain Function?
What is Nootropic Food?
Lack of sun and constant stress constantly "drain" our batteries and force us to look for additional sources of energy for the brain.
Can food affect brain neuroplasticity and what foods can be considered nootropics?
Nootropics are "smart" substances that can improve the routine work of our brain: remember more, think faster, have an increased concentration of attention and high mental performance. Even special dietary supplements can be found on sale, but it is much better if natural food products are the source of nootropics.
The word "nootropic" itself was proposed in 1972 by the Romanian chemist Corneliu Giurgia to denote a class of supplements that improve the brain function and do not have the side effects of psychostimulants. But don't run straight to the pharmacy, we're not talking about supplements today – but focus on products that have a nootropic effect.
Scientists say that neuroplasticity of the brain is primarily associated with the ability of the brain to change and adapt to certain conditions, depending on our experience and external factors, but still, a few specific substances are needed for a successful cell regeneration.
That is, we cannot develop additional neural connections in the brain by eating a nut or banana, but with the help of food we can protect them and ensure recovery.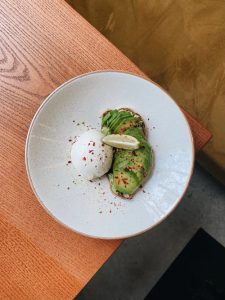 These are the nootropics that we recommend eating in order to maximize the performance of our brain:
Our brains need protein-rich foods high in essential amino acids. For example, tyrosine and tryptophan, which are not synthesized in our body, and we can get them only from food.
They are extremely necessary for some neurotransmitters – chemical "messengers" in the body that transmit signals from nerve cells to target cells. Therefore, be sure to eat meat, eggs, soy, non-fat dairy products – mainly, essential amino acids are found in animal products.
According to the research, the correct level of magnesium in the body has a significant effect on our brain. For example, magnesium deficiency is very common in people with Alzheimer's disease or those with vision problems.
For this reason, it's important to include leafy salads, legumes, avocados, bananas, nuts, seafood and fish (salmon, mackerel, tuna), dark chocolate, and tofu in your diet.
The neurotransmitter acetylcholine and lecithin, which help maintain cell membranes and transmit nerve impulses, are synthesized by choline. Foods containing choline – eggs, cauliflower and Brussels sprouts, turkey, asparagus.
Polyphenols that protect the brain from pro-inflammatory cytokines that causes serious depressive disorders are found in spices like cloves, oregano, curcumin, dark chocolate and blueberries.
The structure of our nerve cells (neurons) is made up of quality fats. When the brain needs to create new cells through neurogenesis, it needs a good supply of omega-3 fatty acids.
Lack of fatty acids can interfere with communication between our brain cells, slow down thinking and affect alertness. Fortunately, there are a lot of products in the world that contain omega-3 – such as  fish, seafood, nuts.
Therefore, our task is to take care of their availability in advance by including fatty fish, eggs, nuts, seeds, vegetable oils (for example, hemp oil) in our diet. The brain also needs vitamins B6 and B12 to build cells, which can be found in meat and other animal products.
To prevent free radicals from attacking our brain cells, we need antioxidants, which are found in tomatoes, garlic, spinach, berries and grapes.
Since sugar (glucose) is the source of energy for our brains, it is very important to have foods in your diet that contain enough sugar. Fiber is a great source of energy, as it slows down our digestion, and this causes sugar to enter the bloodstream at a constant level. Fiber-rich foods – vegetables, nuts and seeds, whole wheat grains.
Caffeine. A joy for coffee and tea lovers. Caffeine is a natural nervous system stimulant that helps improve concentration. True, it is important not to overdo it here – otherwise the pens will shake.
Recommendations
If, even after changes in your diet, you continue to feel bad, wake up lethargic, it is better to see a doctor. In this case, it is worth taking tests and understanding what exactly is lacking in your body.
Maybe you will be prescribed synthesized nootropics in pills – but remember that they have a number of side effects. Products with a nootropic effect and nootropics in pills are different things.
Can nootropic food  replace sleep and a balanced diet?
The bad news is that nothing can replace quality sleep and proper nutrition. The good news is that when the stress is too much and the stress is too high, your body can try to help cope with them. But you should always remember that "emergency" situations should not become the norm. Working to the detriment of sleep will not work for a long time.
Does a modern city dweller need nootropic food or supplements in cases of an urgent need (exams, deadlines, important conferences) or on a daily basis?
From the above, it is clear that it is generally incorrect to say that "nootropics are needed" for healthy people. Some supplements can be used after consulting a doctor, depending on the specific task, a substance or an alternative way to increase productivity will be selected.
Rather, it makes sense to talk about the need to maintain a sufficient intake of vitamins into the body (vitamins of group B are extremely important, for example), microelements, "building blocks" for building molecules that our neurons exchange.
If something is missing in your diet, it makes sense to introduce it in the form of supplements. But for this you need to monitor the condition and understand what exactly is missing.